Having a baby during winter is a special kind of struggle. Putting her into winter clothes, trying to get her out of them, your little one being annoyed by so many layers… One thing you shouldn't have to worry about is her stroller, which is why it's good to look into some of the best strollers for snow.
Whether the weather reports are announcing a blizzard or you're living in an area where it snows often, it's always a good idea to be prepared. Before you buy your baby's first ride, we have a little secret for you – not every stroller can be used in the snow.
The last thing you'd want to happen is for your little one's stroller to get stuck. Not only is it super frustrating, but your baby's health might be in danger, too. Having a stroller that can handle snow will help you minimize the risks and keep your baby safe.
Together, we'll go over some things you should pay attention to when finding the right stroller for these conditions, as well as some of the best strollers for snow you can find on the marker. Let's get rolling!
How to choose the best stroller for snow?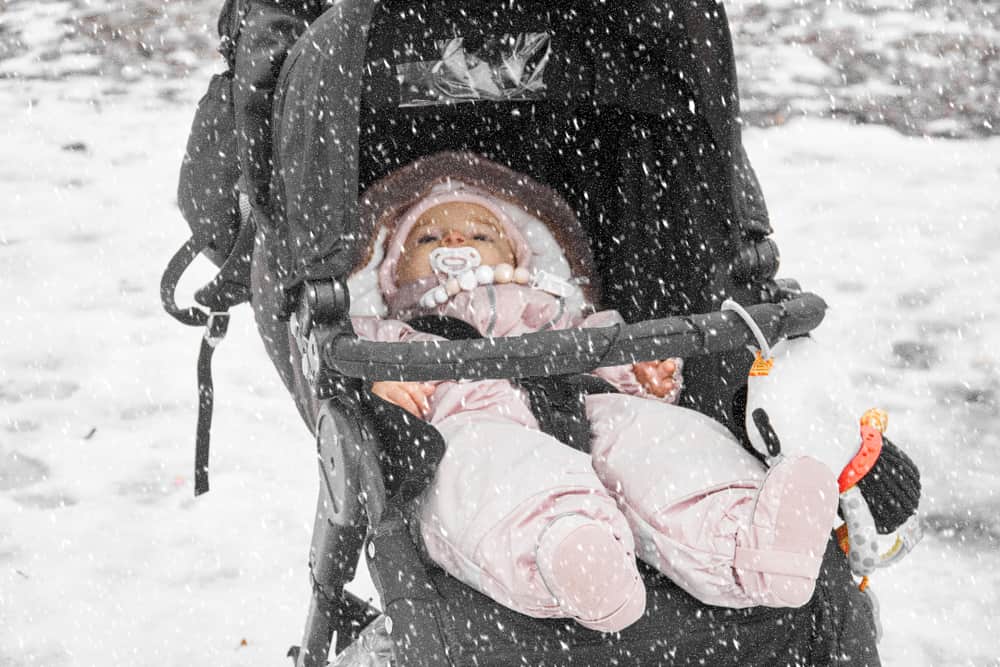 Looking for the right stroller for snow can be quite challenging. Material and its wheel system are just one of the many things that you should pay attention to, as they play a huge role in how your baby's stroller might perform in these conditions.
So, the frame and material the stroller is made of are definitely something you should consider. Your baby's stroller needs to be strong and durable enough so it can handle snow as well as cold weather. Make sure the frame is solid enough to support your baby no matter how bumpy the road is.
You think that's all? Unfortunately, it's not. Having proper tires is probably the most important thing when it comes to buying this kind of stroller. Larger wheels will be a lot easier to control, and they should be made of a material that can withstand cold.
Pushing a stroller through snow can be super challenging, especially when you're trying to avoid random bumps on your path. Strollers with good suspension system help absorb the shocks caused by going over bumps, which makes it a lot easier to push them through the snow.
Some additional features such as a storage basket might also prove to be super helpful, as you'll be able to store all your little one's winter gear in it. Trust me, you don't even know how much you need this feature on your stroller. It's a lifesaver.
Another thing your stroller should have is a rain cover, which will come in handy for days when it's snowing outside, and it will also protect your baby from cold and wind.
4 best strollers for snow
Okay, so you should pay attention to durability, tires, baskets, rain covers… Got it. We can now move on to why you're here in the first place – what are the best strollers for snow you can find on the market?
The good news is (or maybe not…) there are plenty of amazing choices for you to try. Since it can be pretty overwhelming to find the right one, we've gathered some of our favorites that you can choose from.
1. BOB Gear Revolution Flex 3.0 Jogging Stroller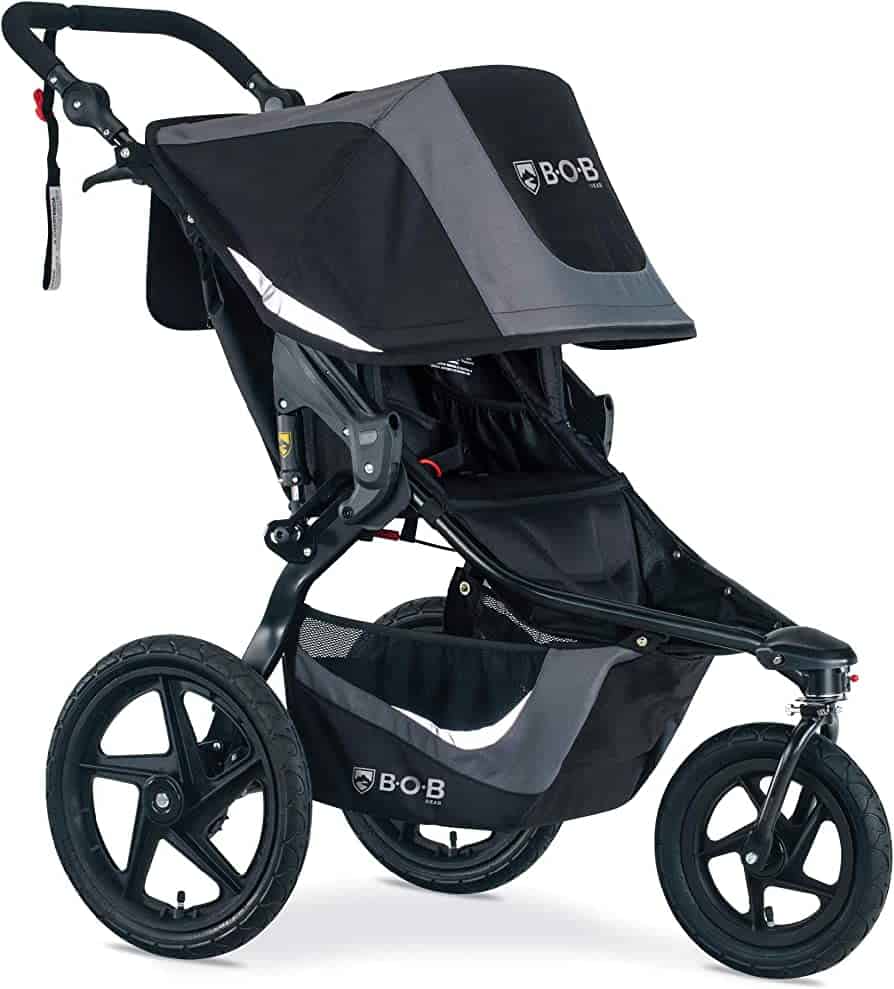 (Credit: Amazon)
No matter what terrain you plan on walking on today, you need it to be a smooth ride for your little one. With BOB Gear Revolution Flex 3.0, that's always possible, even after you've just had a huge blizzard! After all, isn't your town covered in snow the most magical experience? How could you resist it?
Good news for short moms! This stroller comes with an adjustable handle. No matter how tall you are, you'll always have full control over it! On top of that, its harness is adjustable too, which makes it possible to use this stroller even after your baby grows.
The seat in this stroller is highly padded, which makes BOB Gear Revolution Flex 3.0 one of the most comfortable and warm strollers you can put your baby in. She'll be all snug and comfy!
Some great features are also a tray for your things such as a phone or a cup, while a pretty roomy basket will be perfect for your baby's essentials.
Pros of BOB Gear Revolution Flex 3.0:
Adjustable handlebar
Padded seat for your baby which will keep her warm and comfortable
Roomy basket for your baby's essentials
Great suspension and air-filled tires for a smooth ride.
Cons of BOB Gear Revolution Flex 3.0:
Some parents might find this stroller to be a bit too bulky
It's pretty expensive with a price of around $450.
2. Graco FastAction Jogger Stroller Gotham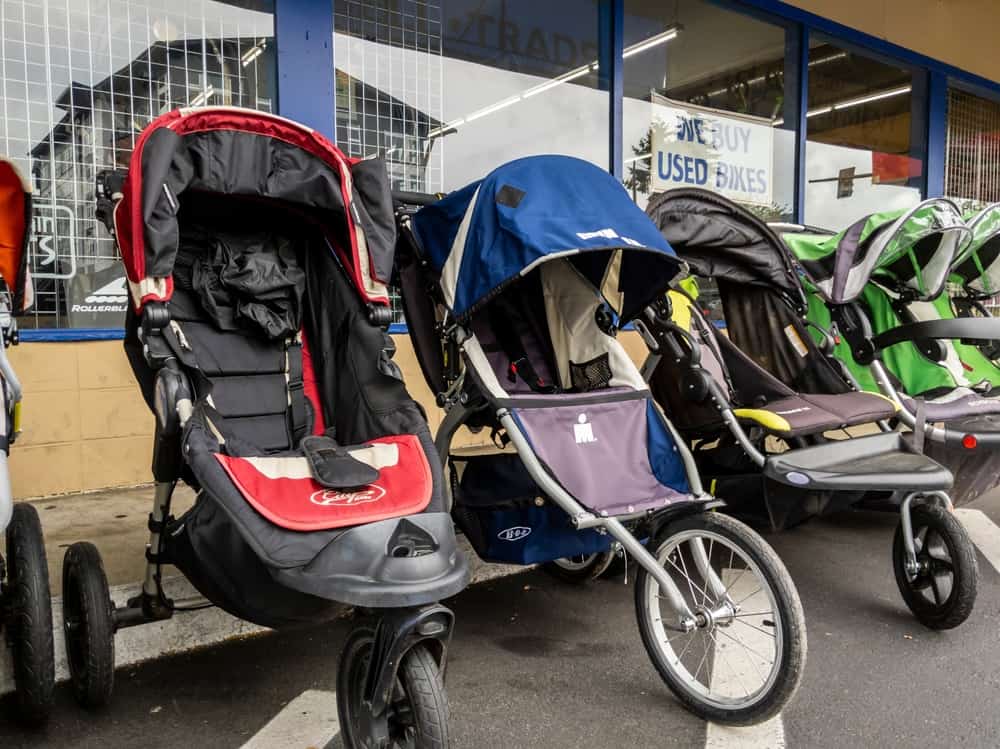 When speaking of the best strollers for snow, we simply have to mention Graco FastAction Jogger Stroller. Although all jogger strollers are a good choice because they're lightweight and easy to control, this model is especially good for snow.
That's mostly due to its air-filled tires, which provide a smooth ride even on snow and other rough terrains. And, the best part is, it's super light, weighing no more than 40 pounds!
If you have any kind of Graco car seat, you have nothing to worry about as this stroller accepts all of them with a one-step attachment system. This makes it perfect for cold weather when you just want to connect your car seat and go.
What also makes this stroller so loved by parents is how fast you can fold and store it. All it takes is one movement and no clipping! Doesn't that sound like a dream for every parent?
Pros of Graco FastAction Jogger Stroller:
Easy steering with its three-wheel design
It's easy to fold and set up
Great suspension thanks to air-filled tires
Big storage basket and adjustable handlebar with cupholders for both parents and babies.
Cons of Graco FastAction Stroller:
Not much that we can think of, except that the wheels can sometimes be noisy…
3. Baby Trend Expedition Jogger Stroller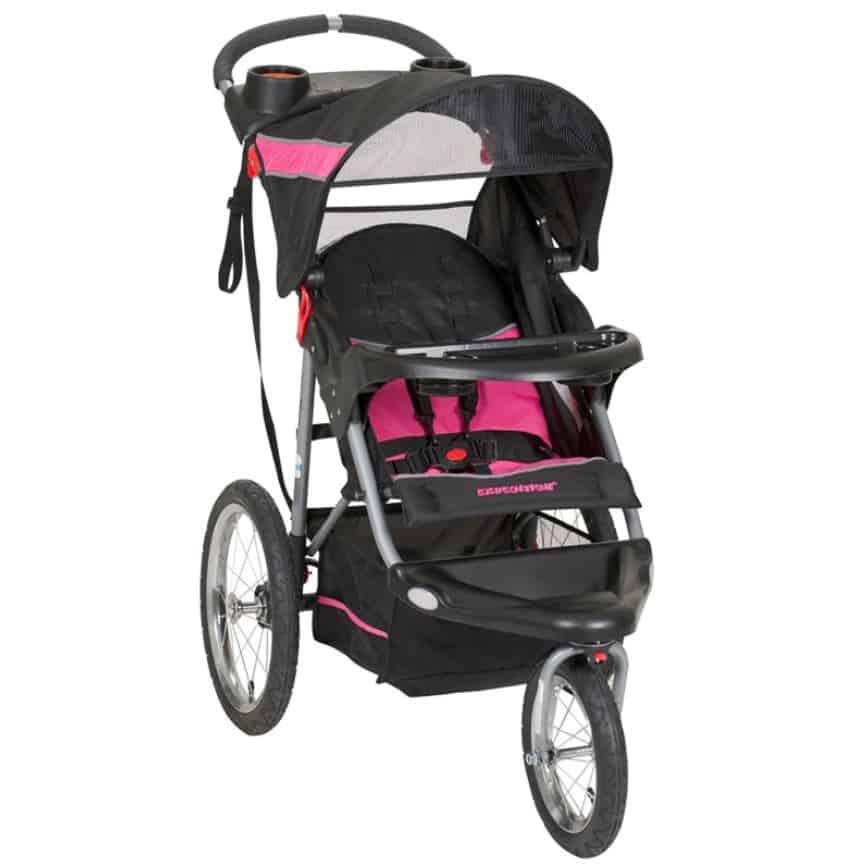 (Credit: Baby Trend)
Another great jogger stroller that can take on pretty much any terrain. Baby Trend Expedition Jogger is a sturdy, yet lightweight stroller that won't cause you too much trouble when it's time to store it.
It has a great design that provides your little one with different seating positions. Parents love it because of its many storage options, including a spacious basket and cupholders. On top of that, your little one will be fully protected with its sunshade window and a rain cover.
It comes with a 5-point safety harness system, which makes this one of the best strollers for snow you can find. Its seat belt is also padded, providing maximum support and safety for your little one. She won't budge no matter how rough the terrain is!
The frame of this stroller is fully closed, which means your baby will be safe and warm no matter the weather conditions. If you travel a lot, you'll be happy to know that it folds very easily and comes with a carry bag, too!
Pros of Baby Trend Expedition Jogger:
It's super affordable yet offers great features
Removable bassinet
Padded seat belt, safety harness, and sunshade windows
It's super lightweight and durable, with a simple folding system
Plenty of room for your baby's essentials and a convenient parent tray.
Cons of Baby Trend Expedition Jogger:
Unfortunately, there's a weight limit, which is why this stroller is not recommended for toddlers who are older than 2 years.
4. Thule Urban Glide 2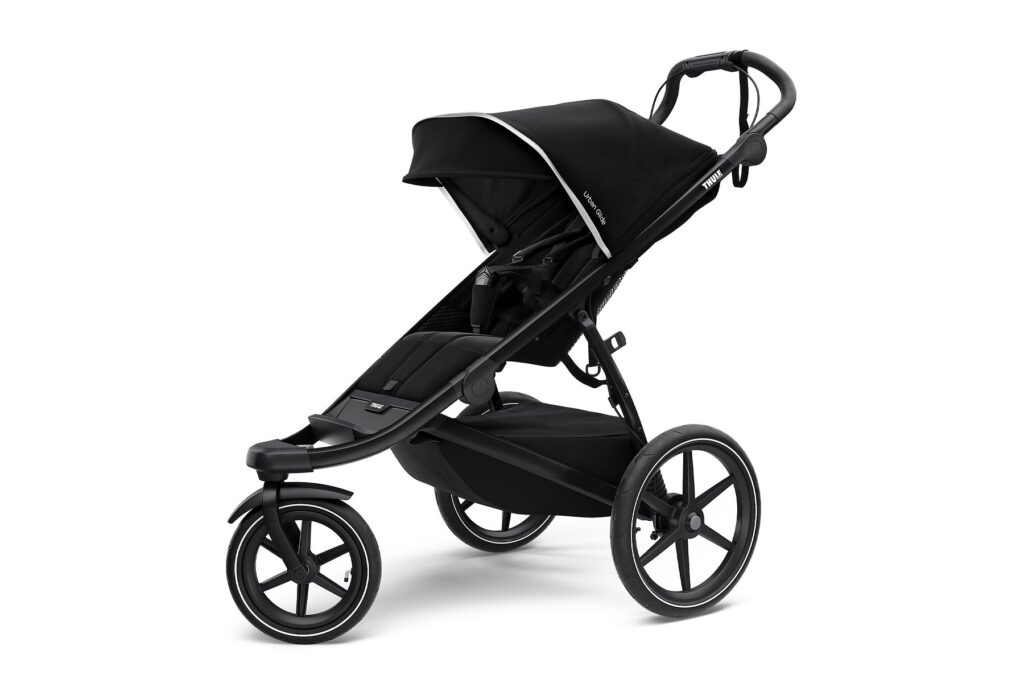 (Credit: Thule)
Thule Urban Glide 2 is one of the most versatile jogging strollers you can find. Plus, it's a great choice for taking walks in the snow, too! Its large, 16-inch back wheels make sure of it, as they allow you to move through deep snow and any other rough terrains.
When you need more control over the stroller, the front wheel can lock into place, making it easy to walk on icy terrains or through tight spots. Since your baby will probably be amazed by trees covered in snow, this stroller comes with a seat that can go all the way down, so your little one can lie and enjoy the ride.
This is a perfect stroller no matter the weather conditions. Its cover comes with side ventilation, which makes it great for hot weather. It also provides full coverage, keeping your baby dry and safe in winter.
Thule Urban Glide 2 is easy to store and travel with because it's super compact and easy to collapse and fold. It won't take up too much of your space, which makes it a great choice if you live in a small apartment.
Pros of Thule Urban Glide 2:
It's compact and collapses down easily
Air-pumped tires provide good suspension
Hand brake for easy parking
Breathable and protective cover
Strong and sturdy frame.
Cons of Thule Urban Glide 2:
Although it's compact, it's still pretty heavy, which might be a problem for some people.
Read more about strollers: Nuna Mixx Vs. Tavo: Your Baby's First Luxury Experience