As someone who's close to a momma of two beautiful baby girls, I know how overwhelming it can be to find out you're expecting twins. There's a dose of anxiety that comes with planning, budgeting, and many questions that you now have. For example, which one would be a better choice: Tandem vs. side-by-side stroller?
I understand the mix of emotions you're feeling right now – the anxiety and fear of the unknown, and the joy and excitement of knowing you're going to be a mom to, not one, but two wonderful babies. Still, wondering which stroller would be the best for your babies can definitely keep you up at night.
I know, I know… you and your budget were ready for one baby, not two. I think it's completely normal that you're scared and worried. But, after the initial shock passes, I'm sure you'll feel nothing but joy and love for the two babies growing under your heart.
Believe me when I say that all the planning, budget changes, and shopping will become something that brings you peace. Doesn't it make your bubs more real? Let's be real here, you probably learned everything there is to know about strollers, cribs, and setting up the nursery, even before you were pregnant.
Those things become a little bit different when you're expecting two bubs instead of one. But don't worry, mama. You've got plenty of time to figure it all out. Today, you'll learn about strollers and the differences between the different options you can find on the market. Tomorrow – who knows?
Things to consider before purchasing a double stroller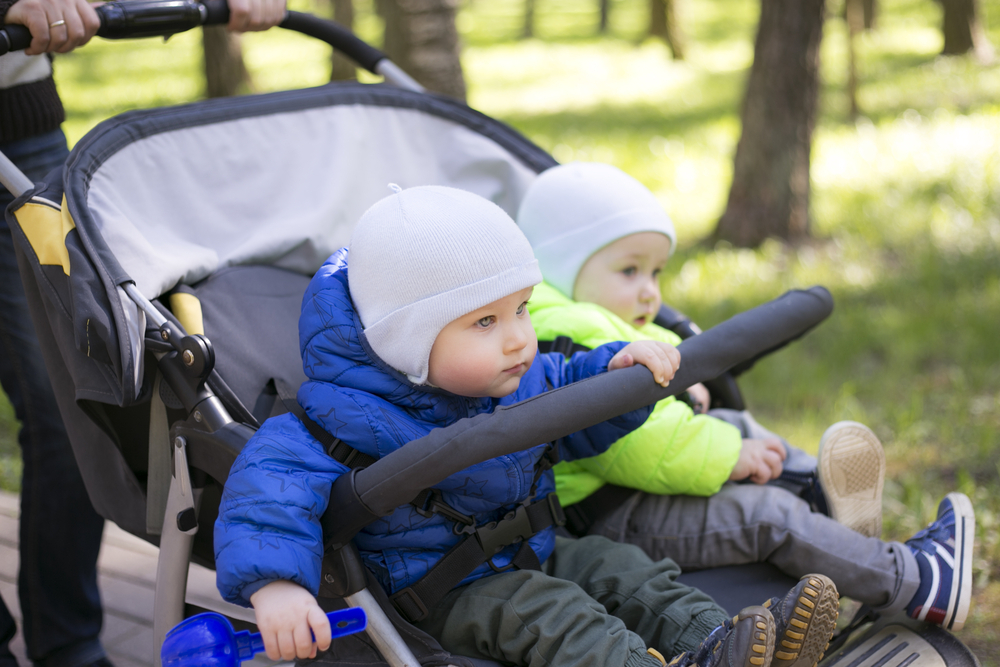 Before we go into more details regarding the tandem vs. side-by-side stroller battle, it's important to know a few things before purchasing either one of these. Here's what you should consider.
1. The age of your babies and for how long you plan to use the stroller
Just like any strollers, these are also designed to fit babies of all ages, ranging from newborns to toddlers. If you plan on using the stroller for a longer period of time, you need to choose one that has larger seats. That way, your babies won't grow out of it quickly, and you won't have to purchase a whole new one after a year or so.
2. Do you need a jogger or a stroller?
How do you plan on using your stroller? If you dream of jogging with your babies, you should opt for strollers that are lighter and more flexible. Make sure that its tires are large and air-filled, which will make pushing a lot easier.
3. The ability to convert to a single stroller
Although some double strollers don't have this option, a lot of them do. Sometimes, you might take only one of your babies out for a walk, and you won't need a second seat. If this is what you're looking for, make sure you look into a double stroller that can be converted into a single one, which is most likely a tandem.
4. Pay attention to the weight
Normal, single-seat strollers can be quite heavy, so imagine how hefty double prams are. Sometimes, you won't have someone to help you carry yours, so make sure you get one that isn't too heavy for you to deal with.
Tandem stroller
Well, the most obvious tandem vs. side-by-side stroller difference is definitely the way they look. Obviously, tandems are a lot more narrow when compared to their super wide counterpart. Because they're a lot easier to navigate, a lot of parents opt for this ride for their bubs.
The amazing thing about these strollers is that they can pass through pretty much any doorway and narrow passageway. Busy restaurants, sidewalks, cafés – you won't have to worry about any of these. Tandems are a perfect choice for parents who are always out and about.
If you plan on having more babies in the future, buying this stroller is absolutely a no-brainer. Why? Because most of them can be converted into a single-seated pram! And, if that wasn't enough, you'll also be happy to hear that these strollers are super versatile when it comes to seating options.
And here's a cherry on top: I have some good news for parents with both toddlers and infants! There are tandems designed specifically for you, with a bassinet on top, for your newborn bub, and a second seat below for her older sibling. Sounds awesome, right?
Pros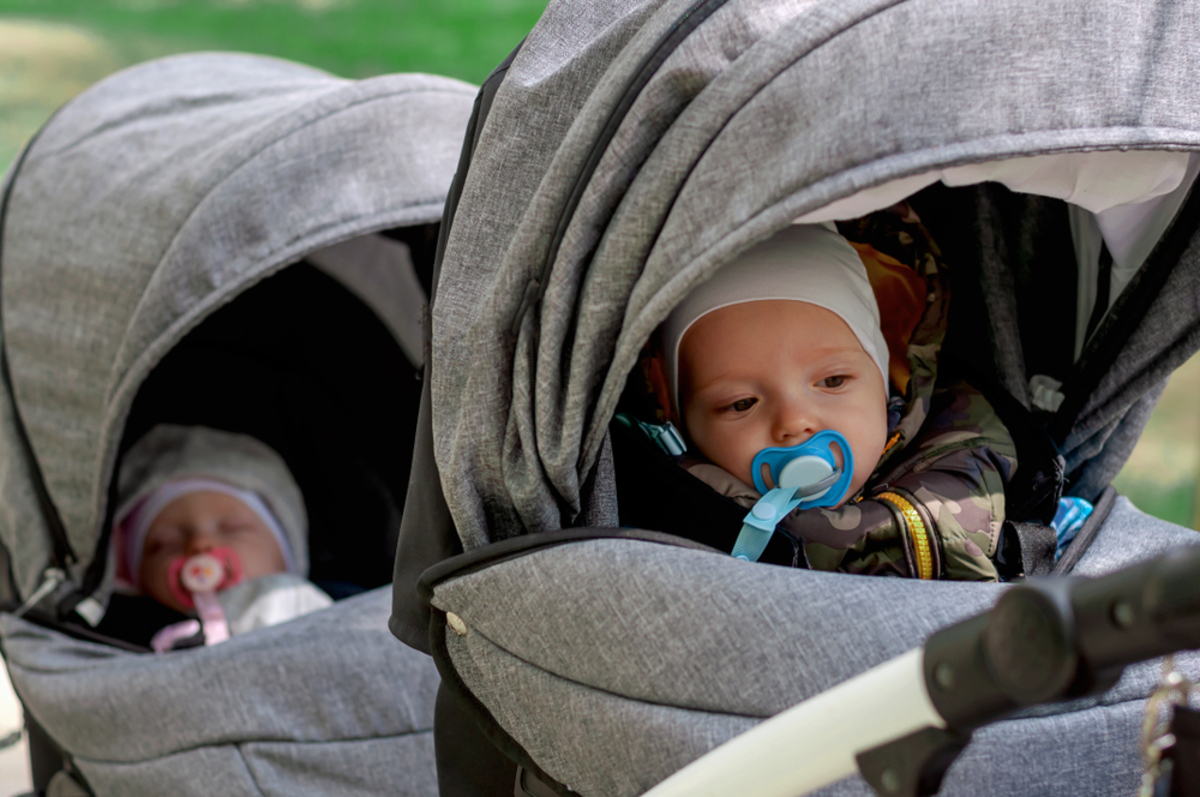 Tandem strollers come with plenty of advantages that might make you opt for this stroller instead of a side-by-side one. Here are some of the most significant pros:
Tandem strollers are not as wide as side-by-side ones, so they will fit through most doorways and narrow passageways, and they're suitable for most sidewalks.
Thanks to their "stadium seating," some tandem strollers are a perfect solution for parents with a small child and an infant.
Some tandem models are designed to accommodate car seats, both in the front and the back.
Your tandem stroller will most likely come with a variety of accessories such as cup holders, snack trays, storage baskets, pockets, and more.
They fold smaller, which means they don't take too much of your storage place and can fit more easily in the trunk of your car.
Cons
Just like every other product, tandems also have their good and bad sides. Here are some disadvantages that are definitely worth mentioning:
Because they have two seats, tandems are usually quite longer than your regular or side-by-side stroller. Because of that, it can be harder for you to access your baby that's sitting in the front seat.
If the model you choose doesn't accommodate an infant car seat, it won't be suitable for a newborn. Most of the time, these kinds of strollers come with a front seat that doesn't recline fully.
Depending on the configuration, these strollers can be quite heavy.
Side-by-side stroller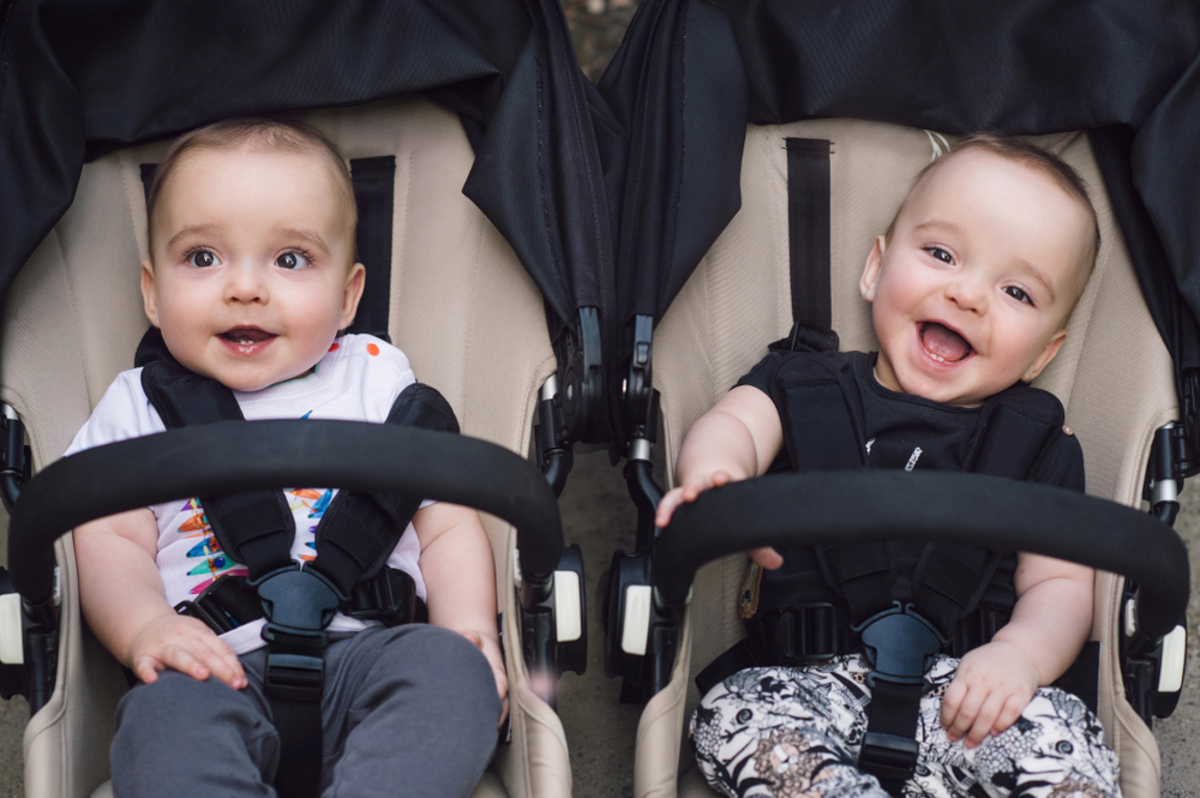 Carrying on with the tandem vs. side-by-side stroller battle, the latter might be a better choice for parents with twins. When you look at it, it seems like two single strollers attached together. Your babies will probably like this one more, as it allows them to sit next to each other and interact.
On top of that, these strollers are usually more lightweight, despite them looking bigger. Because of the shallow seats, they're a lot easier to push, and they come with more storage space compared to tandems.
The biggest reason parents decide against these prams is the fact they're hard to navigate and maneuver. You can forget about narrow passageways and sidewalks, and get ready to look for cafés with doors that are large enough for your little ones to pass through.
Pros
Although they look inconvenient, there are some positive sides of using a side-by-side stroller that make parents opt for this model.
They're perfect for twins as they're designed for kids of the same age, who are almost the same weight.
You get more control over the stroller thanks to shallow and lighter seats.
You can easily access and see both of your babies while walking.
They're a good choice for active parents since they're mostly designed for all terrains. Whether you plan on jogging in the park or hiking, your side-by-side stroller can take it.
Your babies get plenty of room and their seats are able to fully recline.
Cons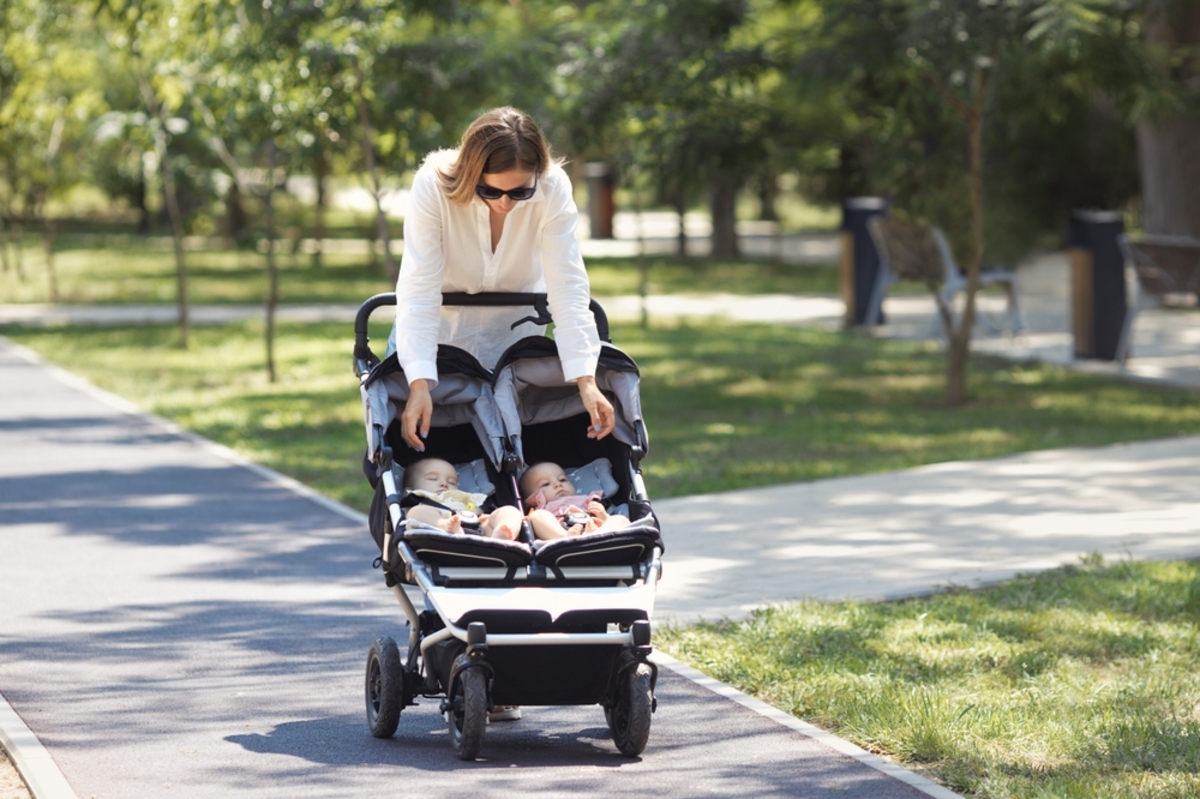 Of course, just like tandems, side-by-side strollers also have some downsides you should consider before purchasing one.
They're pretty bulky and will take up a lot of your storage room, especially in your car trunk.
Depending on the model, some side-by-side strollers can be pretty heavy.
Because of their width, they can be difficult to navigate through small spaces. If you like to go to cafés or shopping malls, this might be a problem for you. However, if you're an outdoor adventure lover, this stroller is a good option.
Most of the side-by-side models don't come with a lot of accessories, such as trays, canopies, storage baskets, and more.
Although your babies can interact, they can also disrupt each other.
Most of the time, these strollers don't come with reversible seats, which can be an issue when your babies are at a very young age.
Tandem vs. side-by-side stroller: Which one should you pick?
So, now that we've covered both sides in the "tandem vs. side-by-side stroller" duel, which do you choose?
If you're looking for a convenient solution for your children who are not the same age, a tandem might be a better option for you. It comes with different seating configurations to choose from, and they're suitable for two children no matter their age.
However, if you're looking for a stroller for your twins, you might want to consider going the side-by-side route. Not only is it a lot easier to keep an eye on both of your babies with this one, but they'll probably like it a lot more, too. Their biggest downside, however, is their width.