Pregnancy is a sacred time for every mom. Some moms-to-be decide that they'd like to keep the most special period of their lives private. If you're one of them, then you're probably wondering how to hide a pregnancy bump for 9 months. Is it even possible?
After all, it's not something that easily goes unnoticed. Your tummy isn't the only thing that changes during this period. Pregnancy often affects your whole body and, most of the time, you have to change your lifestyle, too. After a while, people usually start to notice.
However, unless you decide to share the news with the world, your pregnancy shouldn't be of anyone's concern. There's absolutely no shame in you wanting to keep it a secret, no matter what the reason might be.
If you're willing to spend 9 months of your life in camouflage, it'll definitely be an interesting story to tell, to say the least. Now that you're sure you're ready for this challenge, I couldn't be more excited to help you keep your little one a secret until she gets to meet the world herself. Let's begin!
How to hide a pregnancy bump for 9 months: 7 tips and tricks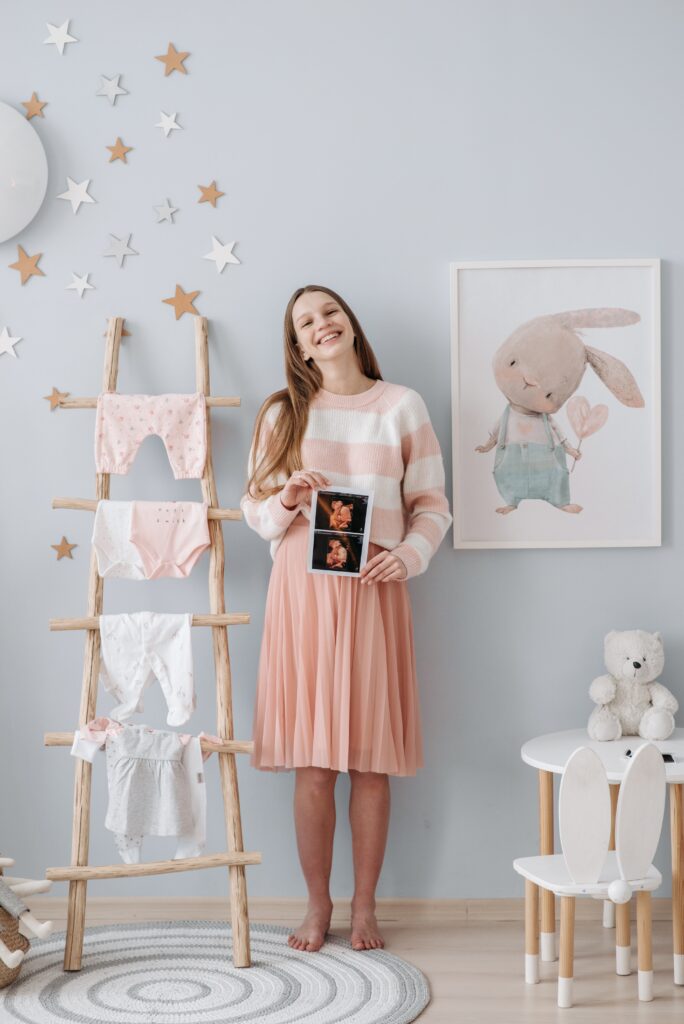 Maybe you've just found out that you're pregnant, or it's already been a couple of days of you trying to decide whether you want others to know. Whatever it is, I assume you've made your decision.
The good news is – you'll avoid all the awkward questions, pieces of advice you haven't asked for, and other people sharing their experiences that have nothing to do with yours. That doesn't sound too bad, does it?
Well, I won't lie to you. Keeping your pregnancy bump hidden for 9 months will be far from easy, but not impossible. Let's see what are some things you might have to do in order to keep your pregnancy fully private.
1. Say goodbye to tight clothes
Let's start with the most obvious one – you'll have to stop wearing your tight-fitting clothes. Although your stomach might not seem any different now, in no time there'll be a small bump ready to greet the world around you.
If you decide to wear fitted clothes, they'll most definitely highlight your tummy. I mean, remember every time you'd have a nice meal before going out, putting on your tight dress afterward, and your stomach looking like you're three months pregnant?!
Only this time, it won't be a delicious burger in your stomach that'll go away once your tummy debloats, but a baby that will just keep on growing! So, yes, no matter how sad it might be – you'll have to say goodbye to your tight clothes for now.
2. Layer on!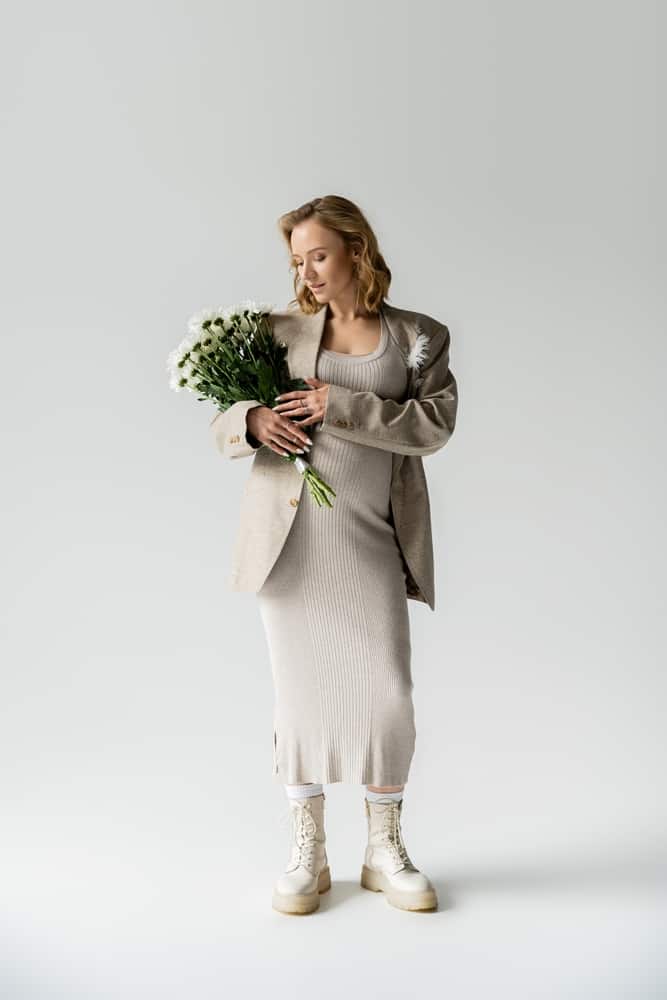 If you've found out you're pregnant during summer, then you've hit a jackpot when it comes to hiding your pregnancy bump. It should be fall around the time your belly starts to show, which is a perfect period to put on some layers and hide your lovely bump!
Not only will you be able to keep your growing belly a secret, but I guarantee you'll feel super cute wearing cardigans, jackets, and ponchos everywhere you go. You can finally wear those adorable fall outfits you've been adding to your Pinterest boards for years, but never had the motivation to try on.
Well, now more than ever is the time for you to experiment with sweaters, tunics, fall dresses, and other layers. Add some patterns to your outfits, and they'll definitely distract people from your growing bump!
Of course, you don't have to change your whole style, as that also might have people asking questions. If patterns are not really your thing, you can always go for some contrasting colors that will create a distraction.
3. Play around with accessories
If you've never paid too much attention to wearing accessories, now might be a good time to start doing so. When thinking of ways how to hide a pregnancy bump for 9 months, you should start by finding the right ways to create a distraction from your tummy.
Playing around with accessories is definitely one of them. Whether it's wearing jewelry, handbags, big earrings, or all of them together – people will look at them first. The best part about creating a distraction with accessories is that you can wear them all year round!
Play around and experiment. Wear some bold handbags with crazy prints, eye-catching necklaces, or some fun-shaped earrings that will get everyone's attention. Who knows, maybe you even find yourself enjoying your new style and it stays with you forever!
4. Go back to your emo phase and try wearing darker colors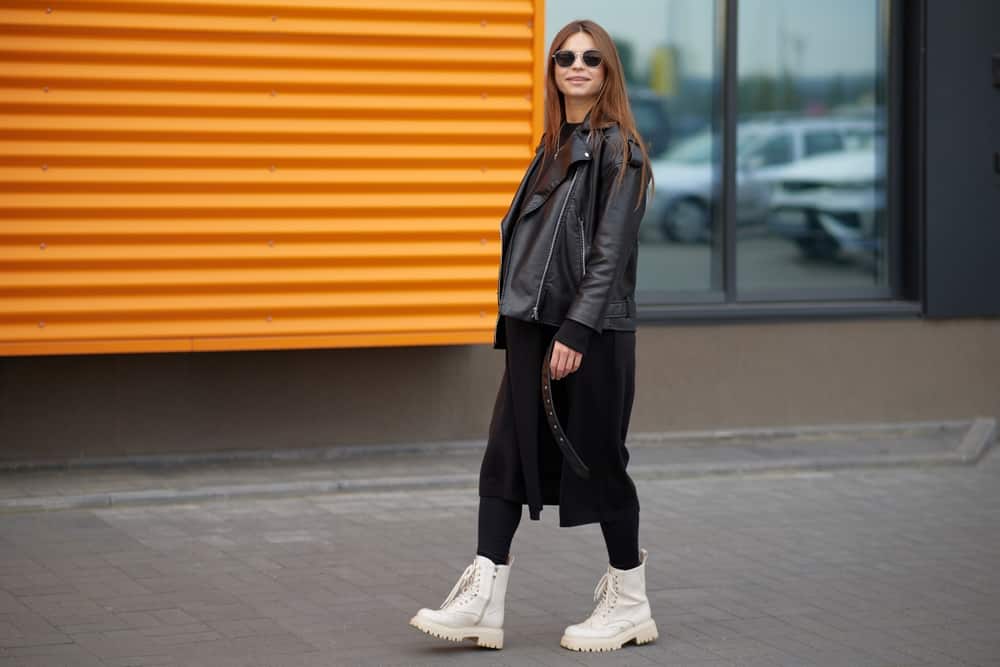 Everyone who's ever tried to hide the fact that they've gained a little bit of weight over the holidays knows the good old trick of wearing dark clothes. "Wear something black, it's slimming!" is that classic, back-handed compliment we all know.
Well, you can use it to your advantage now. Wearing darker clothes really is slimming, and it'll be a great way to hide your pregnancy bump and some extra weight you might have gained. If you've ever had an emo phase, then I'm sure it won't be too hard for you to go back to your trusting color.
Still, if you're known as someone who wears bright and colorful clothes most of the time, you might want to find other ways to hide your bump. Drastic changes in your style will definitely raise some questions, so it's best to stay away from that.
On the other hand, you can try playing around with different methods. For example, layering black clothes with some colorful ponchos or jackets might be a good idea. You can even add some accessories! I guarantee your pregnancy will make you the most stylish person in the room, no matter where you go.
5. Try some comfy and flowy outfits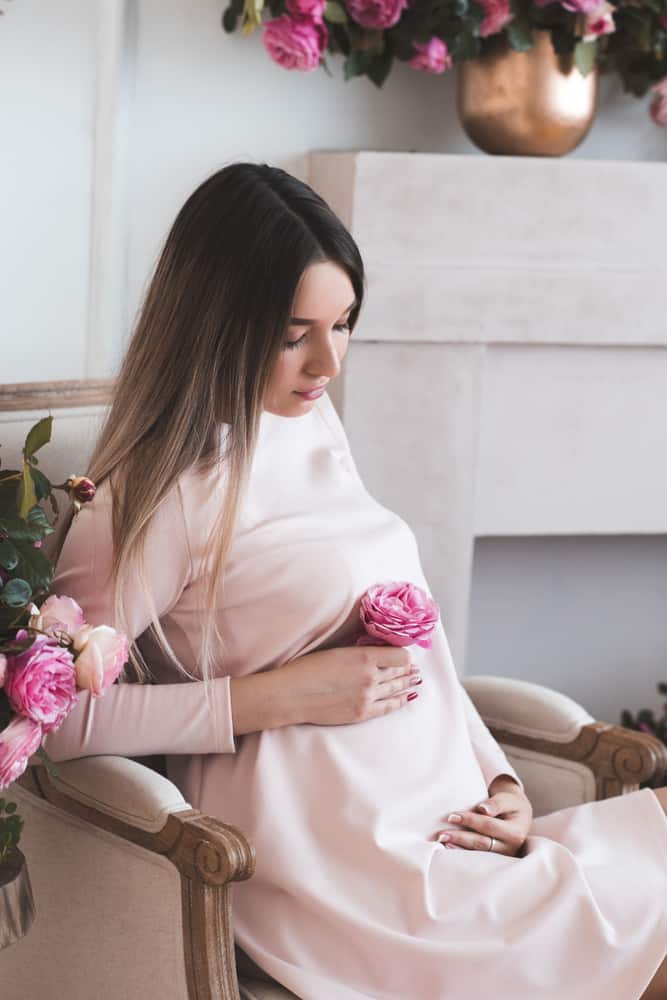 Pregnancy is a perfect opportunity for you to wear comfy clothes 24/7. That doesn't mean you should go to your office wearing your PJs, no matter how tempting it might be. That will definitely have people wondering what's going on with you…
Playing around with flowy dresses and other pieces of clothing will give you a lot of freedom to explore your style while keeping your bump hidden. Not only will it make you feel beautiful and enhance your pregnancy glow, but you'll also feel a lot more comfortable when the bloating begins.
Layering dresses and ponchos will create a perfect hippie look that everyone loves to see, but not a lot of people feel brave enough to try. Since you're strong enough to search for ways how to hide a pregnancy bump for 9 months, I assume this won't be an issue for you.
Also, no matter how good of an idea it might seem at first – don't wear maternity clothes. Although some are made to be flowy, most of them are usually designed to show your bump, and people will quickly begin to realize you might be hiding something under your layers.
6. Scarves and wraps might become your new "thing"
I'm sorry to break it to you but, your belly won't be the only thing you'll have to hide. Although there are some lucky moms who don't gain much weight anywhere except their bellies, that's usually not the case. You'll probably notice changes in your whole body.
A great way to try and hide some of it is by wearing scarves, wraps, and shawls. If your belly begins to show in winter, this will be an ideal time to throw your chunky scarf over your neck and hide the surprise you're preparing for your friends and family.
You can create some great and effortless looks with big scarfs that you can throw over your shoulders and wrap around your body. They'll create a cozy look that's perfect for fall and winter without anyone questioning it.
7. Try to resist touching your belly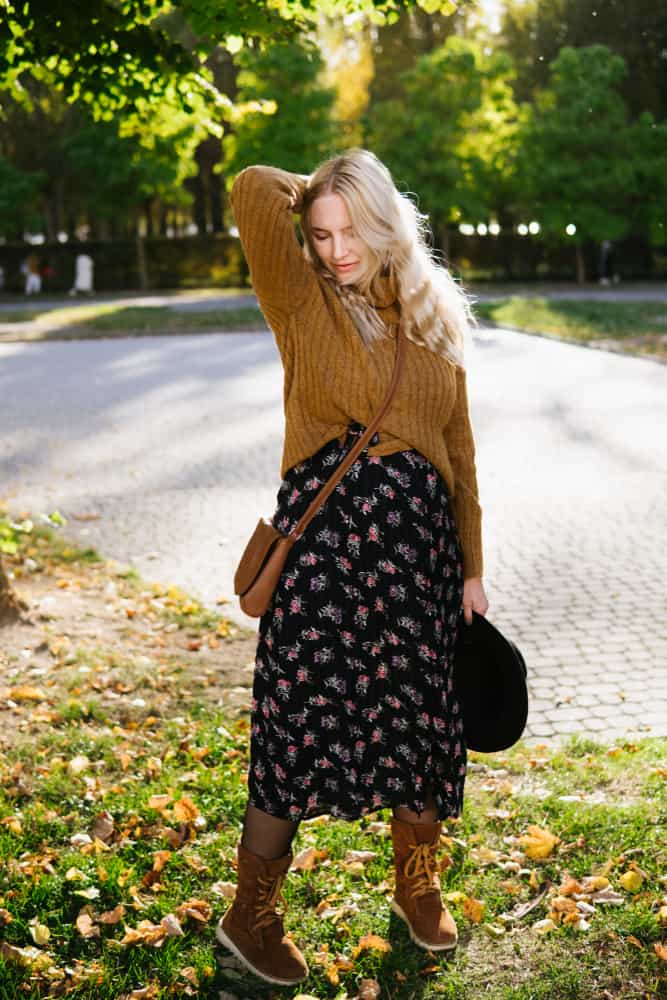 Since I've given you enough fashion advice for pretty much any season, it's time to talk about your body language during pregnancy. Yes, this is also something you need to pay attention to. I told you hiding your pregnancy will be challenging…
Because you'll probably spend most of the time at home, you'll get used to always touching your belly and trying to feel your little one. It's something that all moms do and it can be pretty hard to resist. However, if you plan to hide your bump, it'll be something you'll have to avoid doing in public.
This will be especially hard when you feel your baby move and all you want to do is put your hand on your belly and feel her. To avoid accidentally doing it, I recommend always carrying something in your hands or distracting yourself with your phone.
Don't worry, mama, your little one will be in your hands in no time, and all of this will be over. You're brave for choosing this kind of pregnancy, and I truly hope you enjoy every second of the most magical period of your life!
Read more: Cravings 101: Can You Eat Truffles When Pregnant?