"How will my baby act without me? Will she be able to eat properly? How to label bottles for daycare?" There are so many questions running through your mind when it's time to part with your little one. It's completely normal, and going back to work is far from easy for a parent.
Maternity leave is one of the most beautiful experiences for a mother. You spend every minute with your child and watch her grow in your arms. Since you've created a routine for both of you, feeding becomes a big worry when it's time to send your baby to daycare.
But, don't worry. No matter how anxious about the whole ordeal you are right now, your baby will be just fine. She'll eat, sleep, and play. In no time, you two will be back together again. Since you're here, we assume feeding is one of the biggest worries for you.
After all, you were there with her 24/7, always ready to breastfeed her when she needs it. Luckily, there are a lot of ways you can store your breastmilk and pack it for daycare. If you're worried about your baby getting the correct bottle, properly labeling it will calm your anxiety at least a bit.
If you're not sure how to do it, we're here to help. We'll share with you some of our favorite ways how to label bottles for daycare, and all of them are really simple!
Why do you need to label bottles?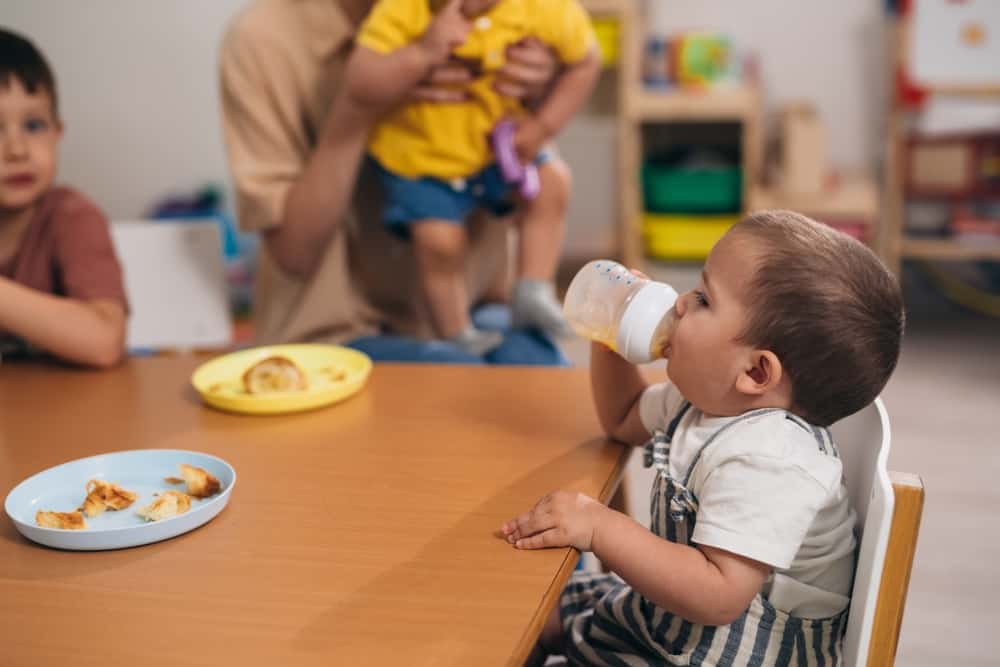 If this is your first child, there's a high chance you don't know much about how daycares work. You're probably wondering why you even need to label the bottles if all your baby's things are together. Doesn't her daycare worker know which bottle is whose?
Well, they probably do, but what if they have a day off? To avoid other workers mixing up milk and giving your baby the wrong bottle, a label with her name will make everyone's lives a lot easier.
On top of that, a lot of daycares have guidelines that deal with baby bottles. They keep in check what kind of milk each baby gets to avoid any allergic reactions. Because of that, most daycares will ask you to label your little one's milk bottle, so they make sure everyone gets the right one.
What you should look for in a bottle label
Before learning how to label bottles for daycare, it's important to know what are some things to pay attention to when choosing the right label. It's important to find good quality labels that will last you for quite some time. Here are some things to consider.
1. Durability
The most important thing you should look for in your bottle labels is durability. Before purchasing one, we recommend you do a bit of research. Read about some experiences or talk to other moms that have already started sending their babies to daycare, they'll tell you everything you need to know.
The thing is, you don't want your bottle labels to come off every time you wash them. Not only is it super frustrating, but it can be pretty expensive having to replace them every day. Because of that, we recommend you use waterproof ones that can be washed even in a dishwasher.
2. It needs to be the right size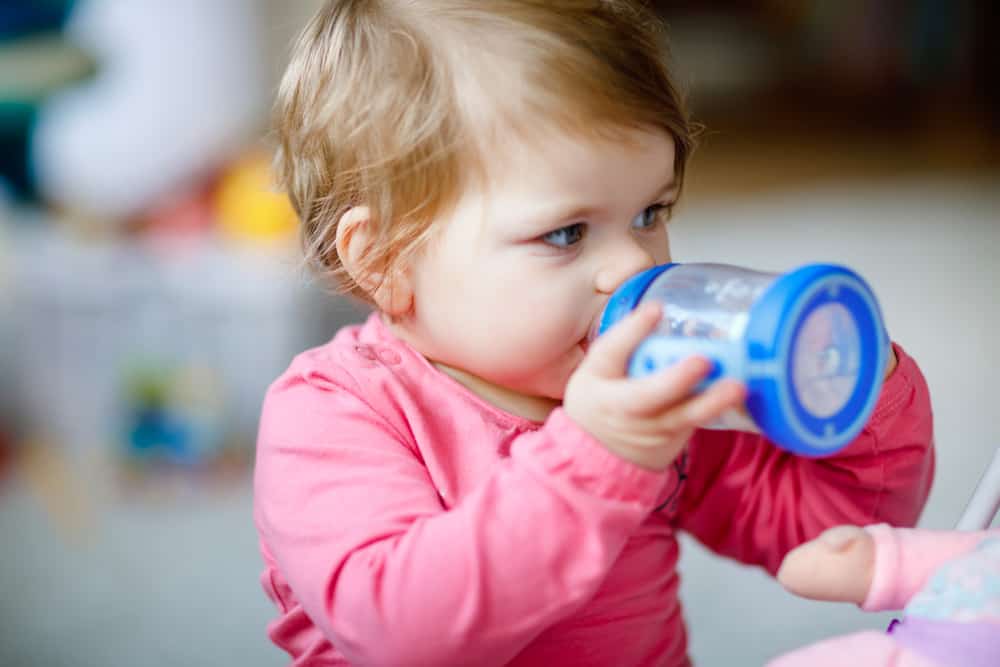 You might think that the size of the bottle label doesn't matter, but that's not really the case. The best kind of label will be big enough for your baby's name and any other information that might be required.
Of course, that doesn't mean you should go crazy and buy a huge label that covers the measurement markings. It's important that the daycare worker who's feeding your little one sees the markings and how much milk there's left in the bottle.
Some daycares have strict guidelines that require different kinds of information to be shown on the bottle. In that case, you can use different labels, while still making sure they're not covering the markings on the sides.
3. It should stand out
Your little one is special, so make her bottle label unique, too! The main purpose of labels is being able to differentiate your baby's milk from other babies' milk. Make her bottle fun and choose patterns that will make it stand out. Bright colors are noticeable, and they're always a good choice.
Don't be scared to get something that most moms probably wouldn't buy. In fact, that might be the best way to go! We recommend staying away from cartoon characters as most babies also like them, so there's a chance there might be similar bottles that could easily get mixed up.
Go for something different, like dresses, bows, trucks, dinosaurs, watermelons, strawberries… the options are endless! This is a great way for you to have some fun and let your creativity shine. You're not only a mom, but now you're a bottle designer, too!
How to label bottles for daycare: 4 easy ways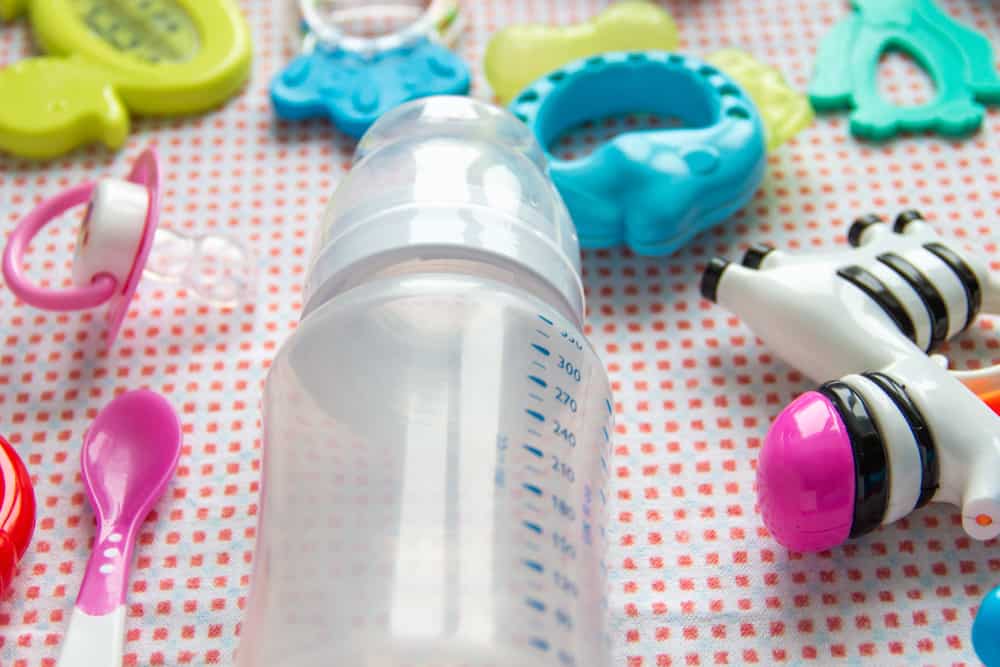 So, these labels should be unique, big enough to include all the necessary info, and unique enough to stand out… But how to label bottles for daycare the right way, making sure to include all of these things we've mentioned? Actually, it's pretty easy, and it won't require you to spend a fortune, either.
We have four ways we absolutely love, that we'd like to share with you and make the whole process a lot easier. Since sending your little one to daycare can be rather stressful, this is a great way for you to unwind a bit and make it a fun little DIY project. Let's see what you can do.
1. Waterproof name labels
As we've already mentioned, using waterproof name labels is probably the best way to go. These kinds of stickers are usually super durable, and they're not easily damaged. You might even have a hard time taking them off if you ever decide to do so.
However, that also means that you'll be able to properly clean your baby's bottle without worrying about the label coming off. On top of that, the sticker won't get damaged even if the bottle leaks or your little one drools all over it. Additionally, you'll be able to throw the bottle into the dishwasher, too!
There is an endless choice of waterproof labels on the market, so you can choose which one you like the best. They're super cute while also being durable. What else does a mom need?
2. DIY your label with a masking tape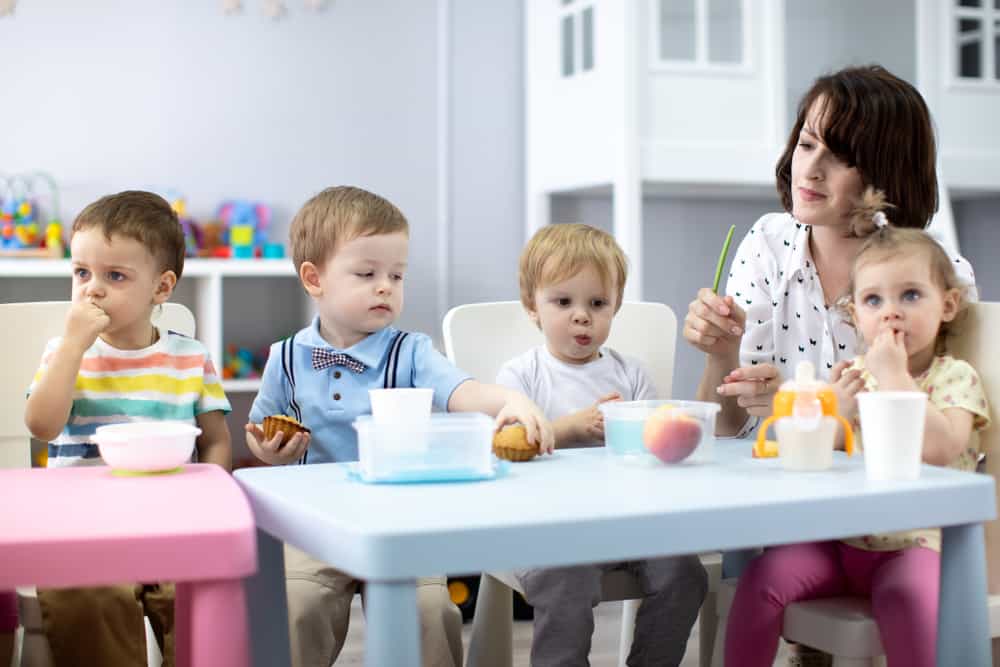 If you're really into DIY while also wanting to stay on a budget, the masking tape might become your best friend. This is an economical and easy solution to your problem. Plus, you probably already have some in your house, possibly in different colors, too!
Unfortunately, this isn't a long-term solution, as the masking tape isn't waterproof. That means it will probably come off the first time you wash your baby's bottle. However, since it's quick and cheap to put them on, you can always redo it before sending your little one to daycare.
Just make sure you don't use plain colors, such as beige or white. Go for something that will stand out, such as bright yellow, pink, blue, or green!
3. Rewritable labels
If you're wondering how to label bottles for daycare because yours require a date and time to be stated on your baby's bottle, rewritable stickers are the solution for you. The best part is, you can find ones that are dishwasher-safe, too!
This is especially important for breastfeeding moms. Putting the date and time on the bottle is a must. On top of that, if you're a lucky mom of twin babies, having a rewritable label will be your lifesaver.
These are also a good idea for moms who pump their milk and like to store it at home. You won't have to change labels every time you refill the bottle, but rather wipe it off and write a new date and time when the milk was pumped.
There's one thing you should pay attention to, however. Never wash the bottle without erasing the information first. If you put the label in hot water with writings on it, they'll become permanent. You'll have to get a whole new label, and rewritable ones are pretty hard to remove.
4. Bottle bands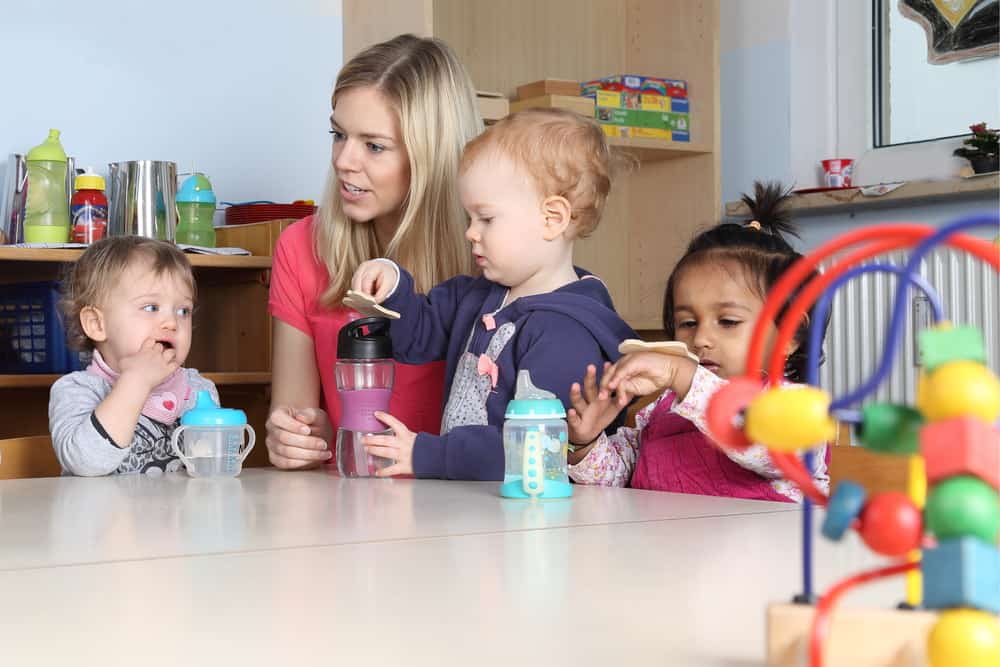 Imagine a little personalized bracelet for your baby's bottle… Well, bottle bands are exactly that. They're super fun, and cute and come in a variety of colors and designs. The best part is – they're easily removable and adjustable!
That means you'll be able to take it off your baby's bottle once she's ready to move on to a bigger one, and put it on that one, too. Getting one will definitely pay off. Not only is it economical and safe, but you can get a personalized one, too. So adorable.
The only con is – you can't write a date and time on it. If your daycare requires this kind of info, you'll have to get a sticker, as well.