I imagine you're surrounded by baby bottles, searching Pinterest and Google for some baby bottle storage ideas that could make your life easier. Doesn't it sometimes feel like your little one's things keep appearing out of nowhere and taking over your home?
Don't worry, mama, it's expected that you can't keep your house as organized as you once could. After all, you have a new roomie that needs all your attention, and half of your living space, too.
Still, you probably can't fight the urge to get things under control, so you spend most of your free time (and we assume you don't get much of it), looking for some easy ways to do so. Finding a space for your baby's clothes, toys, and essentials can be challenging, but you can have fun with it, too!
Luckily, there are other moms who share your love for keeping things organized, and we're here to share their baby bottle storage ideas with you. Without further ado, let's get right into it, so you can solve the issue of endless bottles right away!
Our favorite baby bottle storage ideas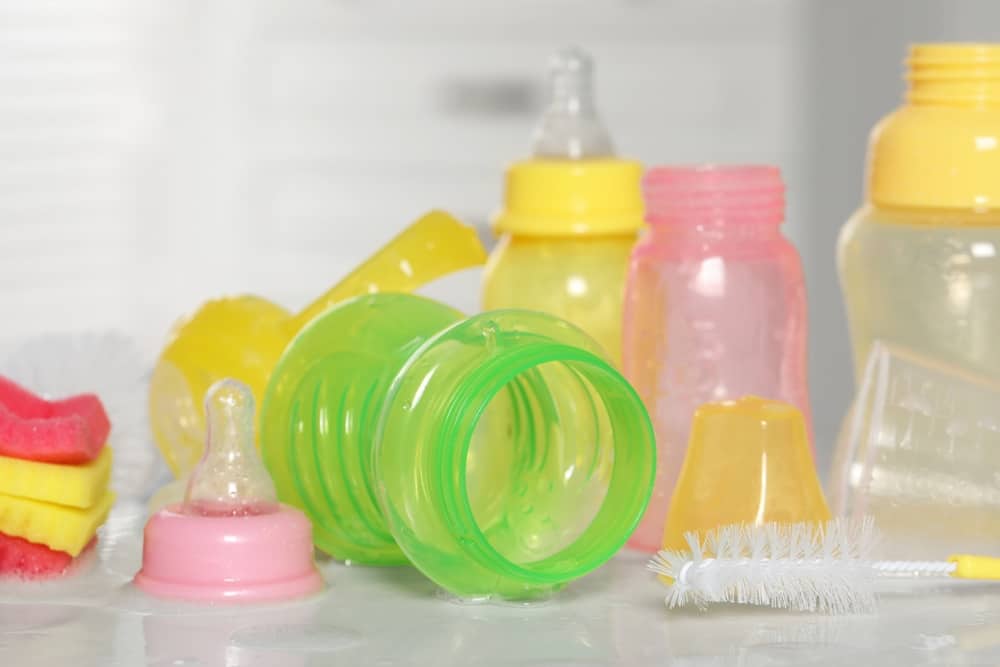 Unless you're strictly breastfeeding your little one, then you're probably in desperate need of some baby bottle storage ideas. No matter whether you're pumping or using a formula, there's no doubt in my mind that you're surprised by how many pieces come with your bottles and pumps.
Because there are so many parts you need to wash and store, having a good organization system makes all the difference. To avoid being overwhelmed by all these new items in your home, let's see what are some simple yet effective ways to store your baby's bottles.
1. Using a shower caddy
Listen, when you need more storage, sometimes you simply have to get creative, so why not use something that you already have? Let's be real here – how many shampoo bottles have been sitting in your shower caddy for months without you using them?
All that space could be used for something you use every day now, like your baby's bottles. Shower caddies are a holy grail for every person who's crazy about keeping things organized. They're just so versatile once you start using them for more than just your shampoo bottles.
Not only are they available in pretty much every department store, but they also come in a range of sizes, shapes, colors, and designs. Finding one that fits your home and your needs shouldn't be too hard. And the best part is – you can attach them pretty much anywhere.
2. Stay organized with plastic drawers
Among many baby bottle storage ideas, plastic drawers can be the most useful to you. They're a perfect piece to have in your baby's nursery. Not only are they a great place to store your bottles and pumps, but you'll probably have some extra drawers to keep other things, too!
They're a pretty simple and straightforward solution that will make your life a lot easier. Plus, they come in a variety of sizes, styles, and colors, allowing you to choose one that fits your nursery best.
Additionally, it's an inexpensive and easy solution that will last you for a long time. After all, your baby will grow up and won't be needing her bottles forever, and you'll be left with empty storage space that you can use for different things, such as her toys, socks, and more.
3. Keep it simple and use baskets
When in need of some extra storage space, turn to your good ol' baskets for help. If you want a simple yet effective solution, this one is for you. The great thing about baskets is that there are designs, types, and sizes that can fit pretty much everyone's needs.
Not only are baskets super easy to use and organize, but they also won't take up too much space because you can stack them on top of each other. Play around, get a few of them, and get to organizing! Whether you organize by color, size, or type – it's totally up to you!
4. Make a feeding station using a rolling cart
If you pump your milk, purchasing a rolling cart could be a game-changer for you. Not only does it come with many layers of storage space, but the fact that it's on wheels means you can have your feeding station anywhere in the house! Sounds practical, doesn't it?
There are so many things you need when pumping, such as nipples, breast pump, tubes, and more. Luckily, rolling carts come with bins or dividers that can help you keep everything in check. Even if you feed your baby formula, you can use the sections on the cart for storing different parts of her bottles.
5. Make some space in your cabinet or your drawer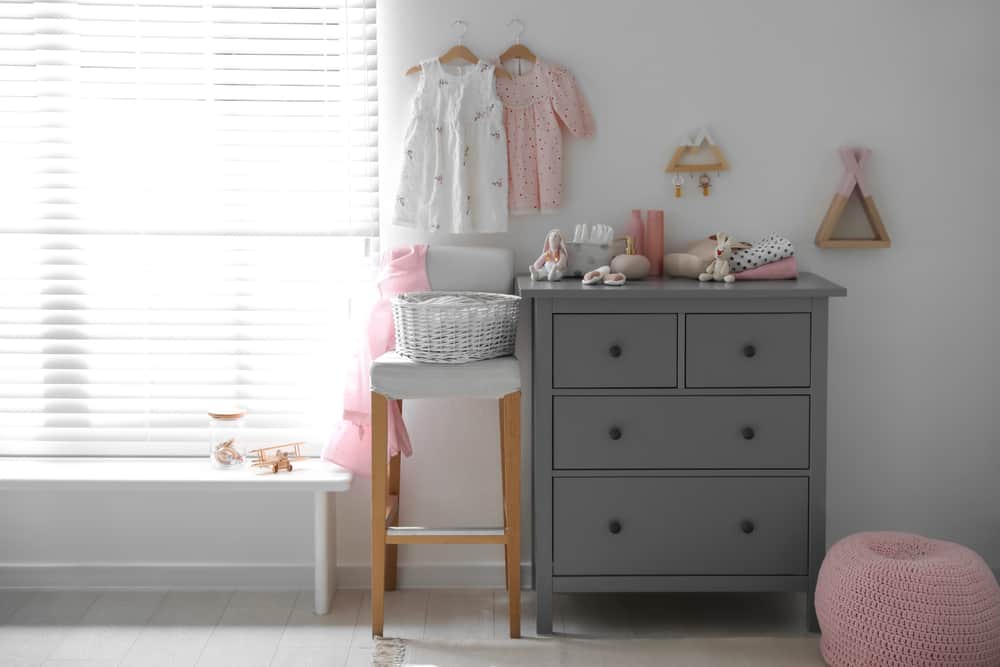 Maybe now is a good time to finally clear out your cabinet that you've been putting off for so long. Once you throw out everything you don't use or things that are past their expiration date, you'll probably have enough room to store your baby's bottles.
This is one of the easiest and most budget-friendly baby bottle storage ideas you can find. We all have at least one cabinet we can clear out and make some room for the baby's feeding supplies. If you'd like to be even more organized, getting some dividers will help you form different sections.
6. A handy door organizer
When you live in a small apartment, you look for every part of your home that can be used for storage. Now, doesn't your door look a bit empty? If there was only a way you could use that empty space for storage… well, there is!
Door organizers are a great way to make some storage for your baby bottles without it taking up too much space. These organizers are a perfect solution for parents with limited living space because they take up as much room as your door – close to none!
They come with many levels which you can use to organize your bottles, pumps, and everything else that you use for feeding. Door organizers will provide you with a perfect solution while utilizing your space.
Some storage mistakes you want to avoid
You'd think there's not a lot that can go wrong when storing baby bottles, but that's not exactly the case. There are some things you need to keep in mind that will help you keep the bottles clean and your little one healthy. Let's see what are some things you should avoid.
1. Storing wet baby bottles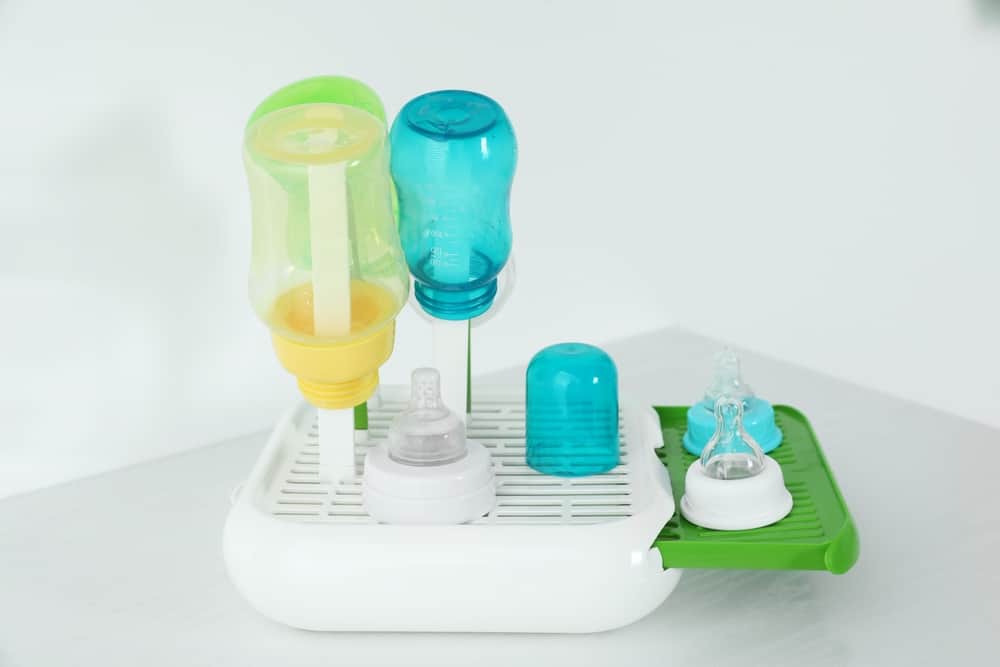 Although it might seem like the easiest way, try not to store away wet baby bottles. Not only can it make a mess in your storage space, but it's also a potential health hazard.
Mold loves moisture, which is why wet baby bottles are like a dreamland for them. If your baby ingests some of it when you feed her, it could cause some serious health issues and tummy aches. Vomiting, cramps, diarrhea – you don't want to put your baby through those terrors.
So, no matter what kind of baby bottle storage ideas you choose, make sure your bottles are always dry. You want to avoid mold exposure at all costs. No matter how much you want to keep your space organized, your baby's health always comes first.
2. Exposing your baby's bottles to sunlight and heat
Putting your baby bottles under direct sunlight might seem like a great and natural way to dry them, but it's another thing you should avoid. Exposing plastic to UV light and heat can degrade it and seriously damage it.
Although most baby bottles are designed so that they can handle some heat, putting them in boiling hot water can ruin their durability. This could eventually lead to plastic turning cloudy and even breaking.
UV exposure can also damage your baby bottles by causing discoloration or even creating cracks in the plastic. Although you might not see it at first, it could harm your little one if she enjoys holding the bottle herself.
Since direct sunlight can overheat your bottles and expose them to UV, we recommend you store them in a covered and cool area of your home. And, whatever you do, never heat your baby's bottle in a microwave.
3. Never leave residue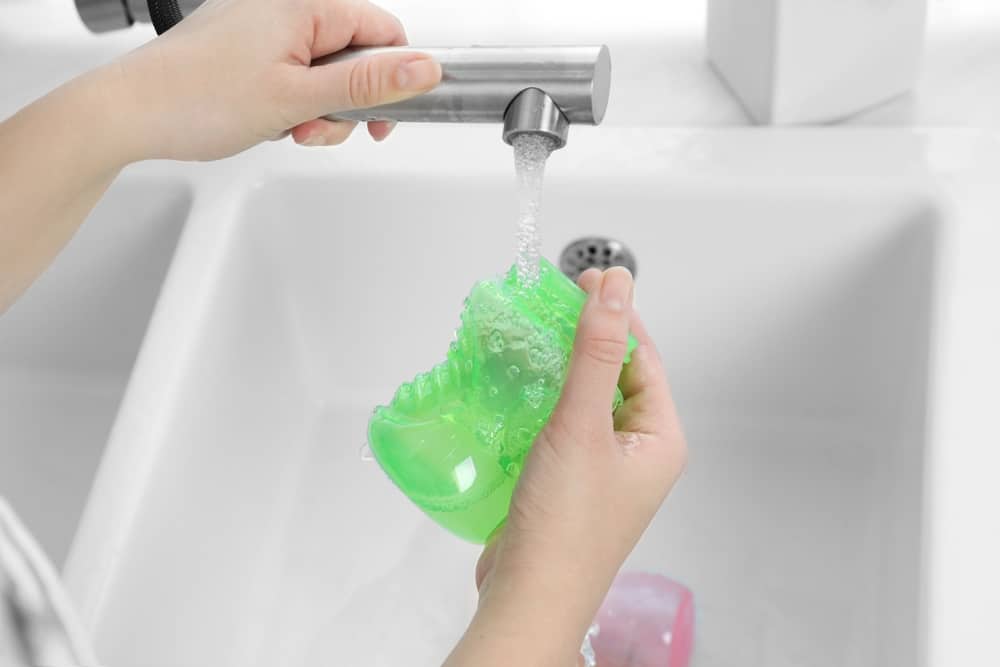 We know how difficult baby bottles can be to clean, but you should always make sure there's absolutely no stray residue in them. Not only can it ruin the bottle and the milk you pour inside next, but it can also lead to some infections that have serious side effects.
The worst part is, these infections can contaminate other bottles next to the one that's infected! It could put your little one's health at serious risk, so make sure you always clean her bottles properly.
Use soap and warm water, and we recommend you repeat the process a couple of times. If you can, steam it before your next use so you can make sure that it's completely clean and ready for your baby.