Here we are, back with another interesting debate. Bassinet vs. cradle – which one should you get for your baby?
It's tough being a parent, that's for sure. Especially a parent to a little baby. How on Earth should you know what he wants since the only thing he does is cry?
Crying when hungry. Crying when sleepy. Crying when awake. Crying when he poops his diapers. And if he is not crying, he is either sleeping or eating.
It's not like your baby can tell you, "Hey, listen. I don't really like this cradle you got me. It's kinda too much for me. Can we switch to the bassinet grandma got me?" Although I have to admit that would be awesome and would make parenting ten times easier!
Unfortunately, that's only our wishful thinking, and we have to go on and figure out what babies actually want on our own.
Thankfully, people help people, and you can always get a piece of advice or two from your mom, your grandma, your friend, your colleague, or a good stranger on some mom-related Facebook group.
And there are always useful articles online. Like this one! So buckle up because this article will help you solve the puzzle in your head. Bassinet vs. cradle? Let's see what are the pros and cons of these useful and amazing baby beds.
What is a bassinet?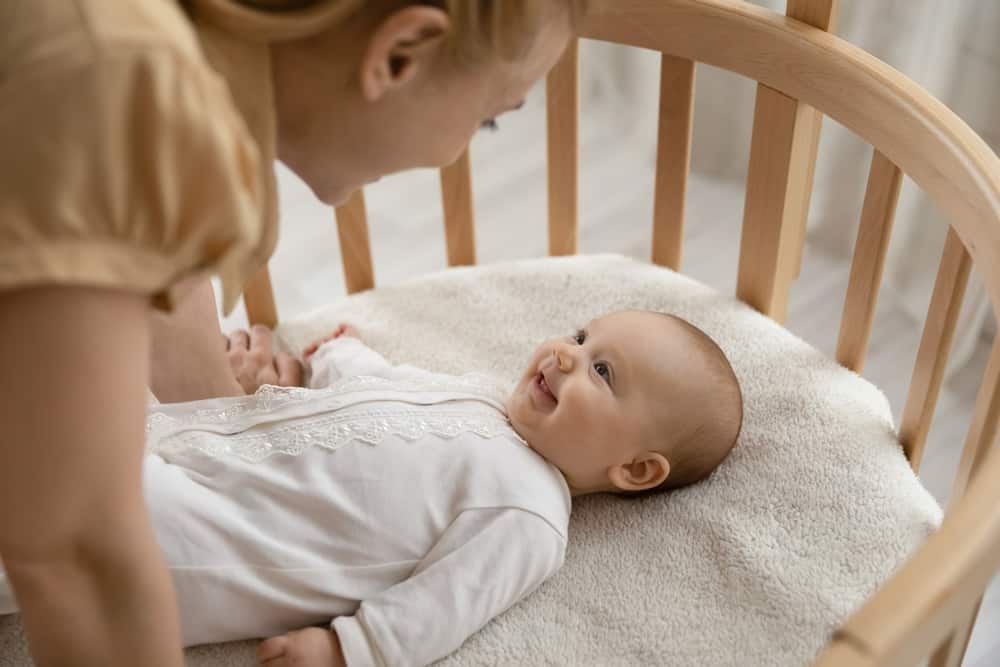 The bassinet is a small, movable piece of baby sleeping furniture usually fixed on legs with wheels. It is often referred to as a co-sleeper since it can be attached to one of the sides of the parent's bed to facilitate feeding and comforting the baby at night.
It comes in various shapes and sizes, but usually, it is a small and oval or rectangular-shaped basket. The bassinet is secured with breathable mesh walls and oftentimes comes with an extra canopy for added protection against bugs.
Some bassinets also come with a handle across the top, so you can carry them around easily. Also, most of them are easily moved on wheels.
No matter their design, bassinets are a great way to keep your baby close at any time, move him around and take care of him during the night, keeping him in close sight.
Is the bassinet safe for a newborn? For how long can you use it?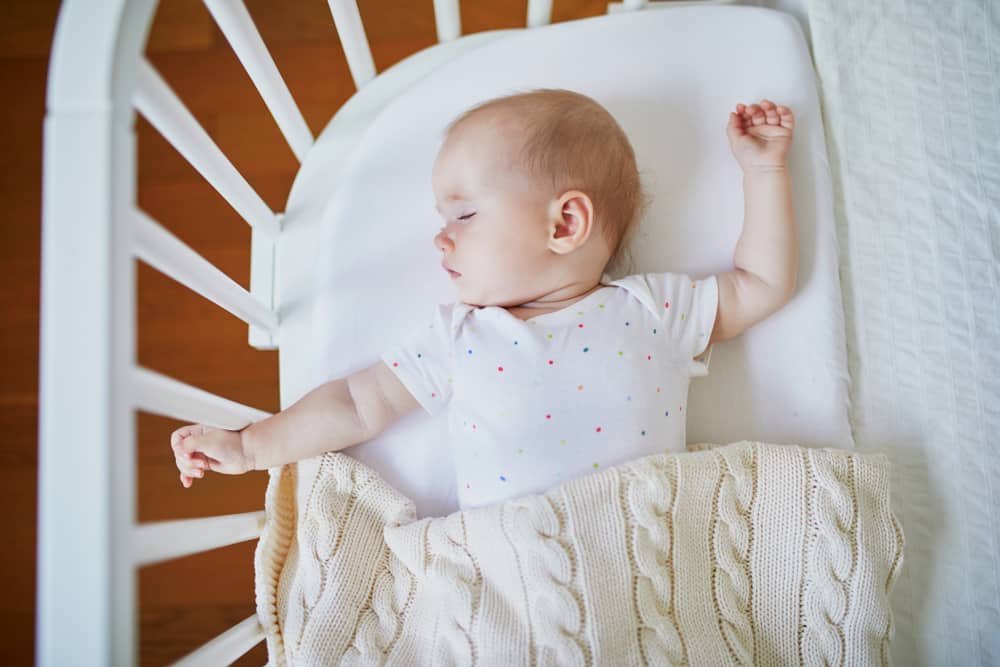 As you might have concluded on your own, bassinets are great for newborns. Their safety concerns are the same as for any other baby sleeping bed. So the mattress that goes inside should be firm but comfy, and the blanket should be thin and breathable.
You can test the breathability properties of your baby's blanket by putting it over your nose and mouth. If the air can move through it, and you can easily breathe in and out – the blanket is safe for your baby.
Inside the bassinet, there shouldn't be any unnecessary toys or added sheets. Also, if you're using a baby cam, ensure the cables are not inside the bassinet.
And, before you put your little one inside, make sure the bassinet is sturdy and well-attached and all the locks or security mechanisms are engaged.
When it comes to the question of how long can you use the bassinet, you have to remember that they have an expiration date, so to speak.
They are not the same as standard baby cribs when it comes to size and strength, so you will have to pay close attention and observe your baby's weight, energy levels, and activity.
In general, a standard bassinet is safe for any newborn under 25 to 30 pounds. However, if your baby is overly active and unusually strong, then a bassinet might not be a good idea.
But generally speaking, they are a great option for babies under 6 months of age.
What are some pros and cons of a bassinet?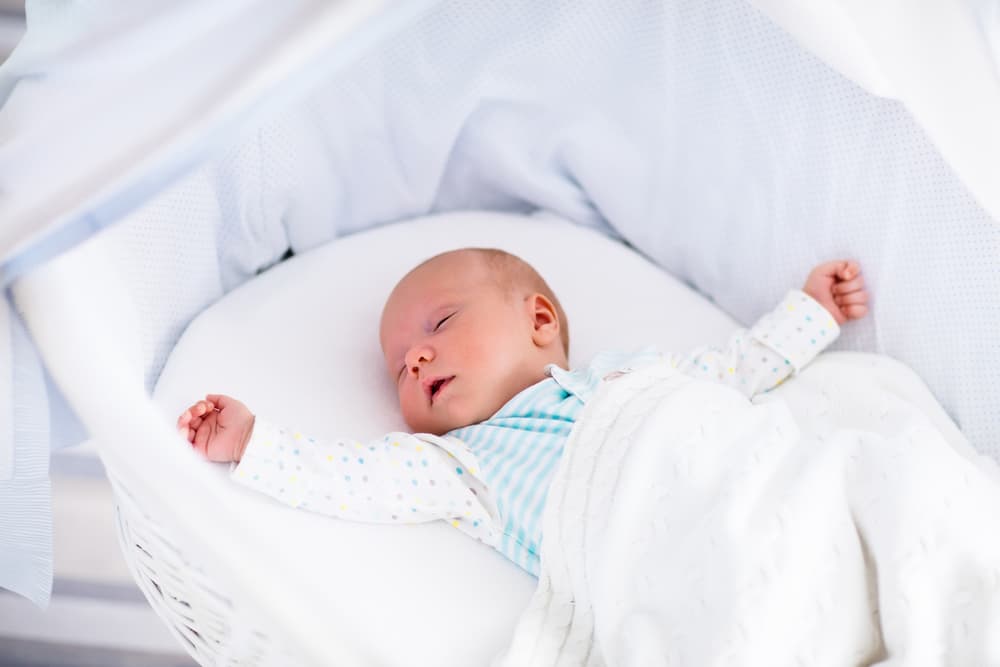 Bassinets have many pros and cons. Some of the pros are:
bassinets are small, light, usually foldable, and easily portable
they are pretty affordable
they are made out of materials that are safe for babies
they can be used for infants straight away
they are incredibly comfortable, so there's no need for you to purchase additional bedding
most of them come with extra space to store diapers, wipes, sheets, etc.
And some of their cons are:
the usage is limited: once your baby is over 25 pounds (30 lbs max), you can no longer use it
your baby will outgrow it pretty quickly
if you want models with some additional features, like music or rocking, you'll have to pay more money.
Keep these pros and cons in mind if you're wondering whether to get a bassinet or a cradle.
What is a cradle?
The cradle is a small, semi-portable piece of baby sleeping furniture. It is somewhere in between the traditional crib and a bassinet: it has a basket shape and is much smaller than the crib, but it is much sturdier than the standard bassinet.
Usually, cradles come with a manual side-to-side rocking mechanism. They feature rocker-style legs and are almost always made out of wood for safety and sturdiness reasons. However, some of them are made out of heavy and breathable polyester mesh that hangs from a heavy metal frame like a hammock.
Today's modern cradle designs in some ways differ from the older models. Some of them come with changing tables, but the most important feature of the newer models is their higher walls, which makes the transition easier as your baby grows.
Is the cradle safe for newborns? For how long can you use it?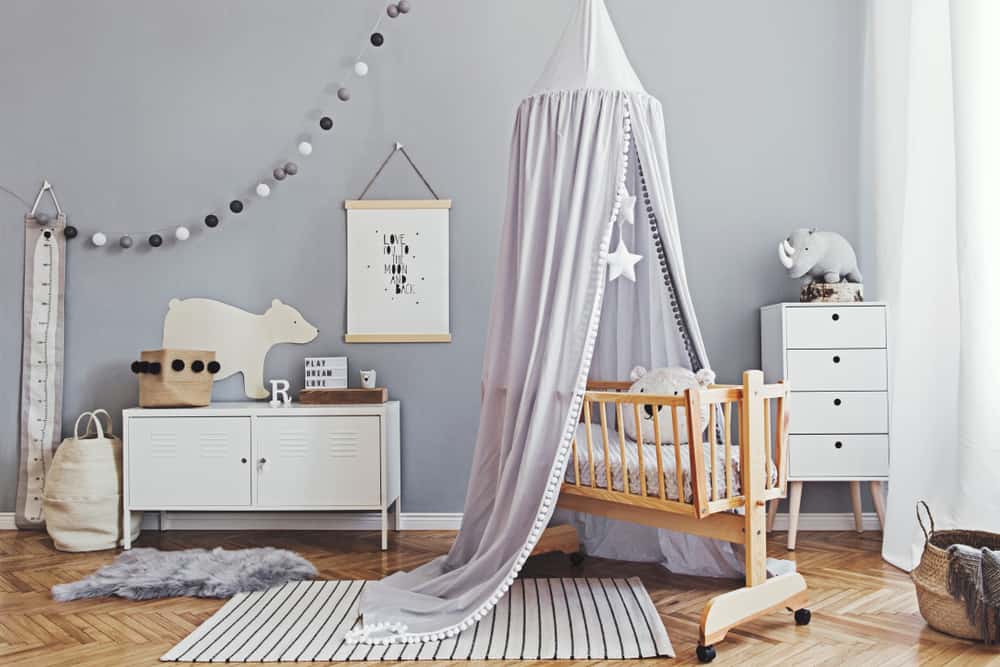 Just like the bassinet, the cradle is also safe for newborns to sleep in. Just make sure all baby sleeping regulations are met.
The sleeping surface of the cradle should be firm, the sheet your baby is covered with should be tight and of proper size, and there should be no excess baby toys, pillows, sheets, or similar things inside.
The cradle could serve as a good transition option from a bassinet to a regular bed. It is great for children who are 1 or 2 years old.
Keep in mind that the cradle should not be used if your baby weighs 40 or more pounds. Also, pay attention to your baby's energy and activity levels since they can greatly affect the usability of the cradle.
What are some pros and cons of a cradle?
Just like a bassinet, a cradle has many positive and negative sides. Some pros of cradles are:
cradles are generally very sturdy and safe
they are easy to shift from one room to the other
because they feature a manual side-to-side rocking mechanism or can be glided, cradles are great for lulling the baby into sleep
because of their similarity to a regular crib, the transition period is fairly easy
they are great for keeping your baby near you during those first months.
And some of their cons are:
in comparison with bassinets, cradles are a bit more expensive
they are usually not motorized, so you constantly have to rock your baby manually
they don't come with a mattress, so you have to buy it separately
even though they are portable, they are harder to move around.
Bassinet vs. cradle: What's the main difference?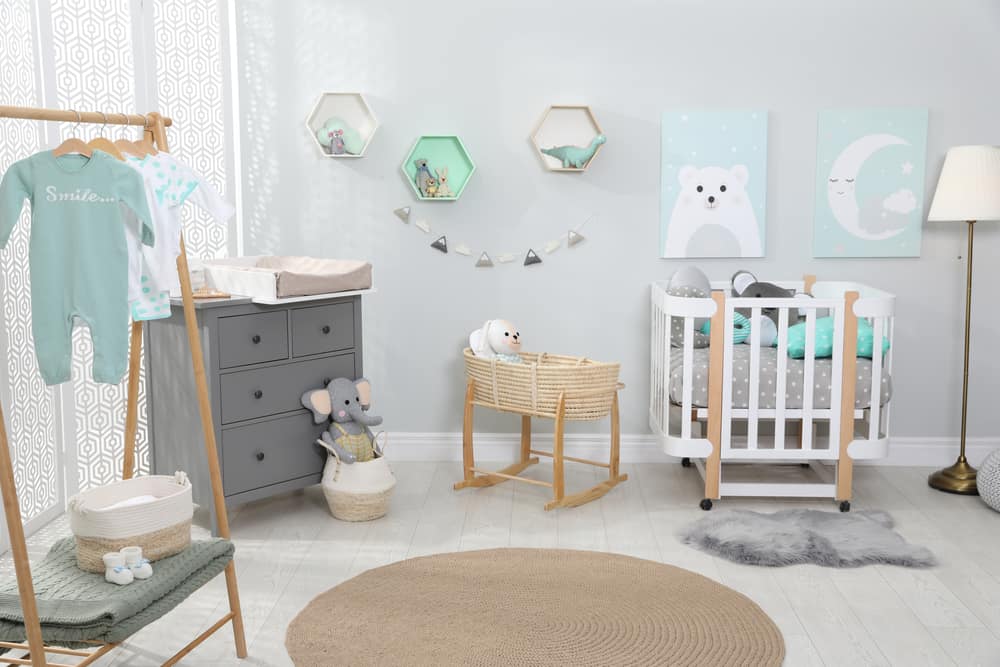 When it comes to the bassinet vs. cradle situation, I believe you were able to distinguish what's the main difference between these two.
The major distinction lies in the levels of sturdiness and safety, which is an area where the cradle dominates. Although a bit more expensive, cradles represent a better option in terms of safety and stability.
An added plus is the ability to rock the baby inside a cradle. Even though you have to do it manually, it's still great at keeping your little one calm and at ease.
However, both bassinets and cradles can only be used in those first couple of months when babies sleep fairly calmly. Once your baby starts rolling around and begins to push up on his hands and knees – it's time for an actual crib.
How to decide which one to get?
Deciding whether to get a bassinet or a cradle can be a real trial-and-error experience.
You have to take into consideration your baby's preferences, and you can only do it by taking some time at getting to know your little one and trying different things and solutions. And you also have to consider your home and how much space you have (or don't have).
Here are some useful tips you can keep in mind that can be your guidelines when deciding which one to get:
if your baby likes to sleep next to you, opt for a bassinet since it can be attached to the side of your bed
if your baby struggles to fall asleep and is generally restless, opt for a cradle since it features a manual rocking mechanism
if you don't have that much space in your home – a bassinet is the way to go
if you're on a tight budget – again, opt for the bassinet
and if you like to splurge and consider yourself to be a maximalist – simply get both!
Read this: Is Love To Dream Swaddle Bad For Arms? Here's The Truth