When you become a parent, you suddenly have a million things running through your mind on a regular. "Why does my baby keep crying at night?", "How often do I need to check my baby's weight?", and "How much weight can a crib hold?" seem to follow you wherever you go.
Now, when you become a parent, your baby becomes the center of your universe. And, there's nothing wrong with that. On one hand, you don't want anything more than to know that you're doing everything right and that you're providing your baby with everything a baby might need.
On the other, babies need so many things that you're struggling to keep track of what you've been buying and shipping to your address. Cribs are, without a doubt, one of the most expensive baby products you purchase when you become a parent.
Other than car seats, strollers, and heaps and heaps of diapers, cribs are worth a lot of money because they're supposed to serve your baby for years to come. Of course, that's why parents try to purchase high-quality, hard-wearing cribs that are guaranteed to last a long time.
Oh, little do they know that the longevity of the crib depends on a bunch of factors, from weight restrictions and height restrictions to safety guidelines and alternatives you can use to prevent breaking the guidelines.
Don't panic, though – we've got your back. Sure, there are a million things to consider before purchasing an expensive baby bed that's going to become the place where your baby spends the most time. But, we're bringing you a step-by-step guideline on everything you need to know to prevent mistakes from happening.
Cribs and weight limits: How much weight can a crib hold?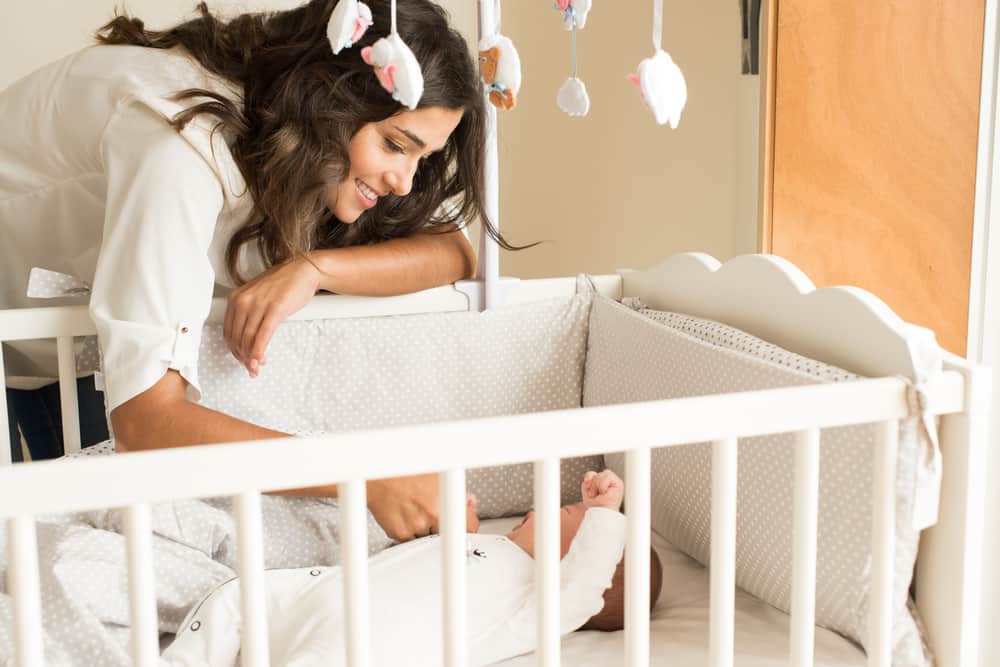 Whether you're buying the crib from Amazon, Ikea, or any other online or offline store, most cribs support a similar amount of weight and come with similar safety guidelines.
With that out of the way, most cribs can support up to 50 pounds which should be enough for most babies and toddlers (up to two years of age).
However, when parents wonder "How much weight can a crib hold?" they often wonder about more than one thing. Whether the crib could support their weight, or if the crib could support the weight of another toddler (brother or sister). You even wonder if the crib could break apart on the off chance that they aren't following the safety guidelines to a tee.
Now, there's a reason why you should take the "most cribs can support up to 50 pounds" answer with a grain of salt. Most manufacturers agree that the weight restrictions we're talking about aren't necessarily related to the weight of the crib or even to the weight that a crib could support without breaking apart.
That's because most babies and toddlers don't weigh over 50 pounds which means that most manufacturers don't see the need to test the cribs for anything heavier than that.
Oh and, cribs are aimed at babies and toddlers which means that they shouldn't need to support anything other than a mattress and a child.
Although there's no way of knowing whether something bad would happen when you decide to soothe your baby by sleeping next to her (in the crib) or by letting an older brother or a sister play with her (in the crib), we wouldn't suggest you do that for safety reasons.
Cribs and height limits: What are the height restrictions for a crib?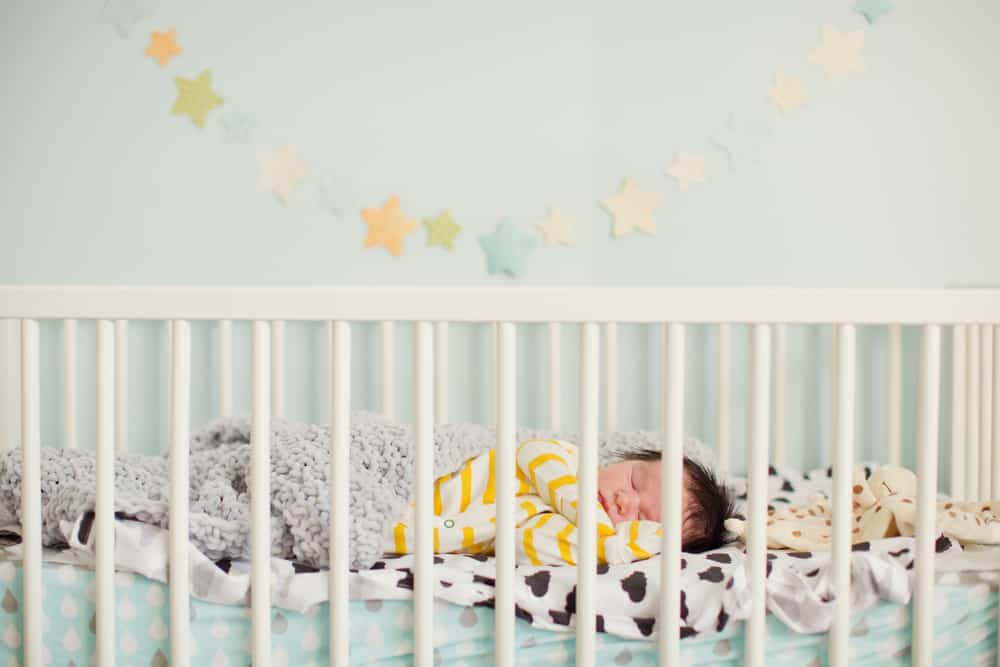 Other than weight restrictions, parents also have to worry about height restrictions. Now, your baby's or your toddler's height might not have the same effect on the crib the way their weight does, but height restrictions and regulations allow them to spread out more comfortably.
Babies and toddlers grow super fast which happens to be the reason why the cribs you purchase for them need to accommodate their growth spurs.
Baby cribs typically accommodate babies and toddlers that are up to 36 inches tall. Toddler beds, on the other hand, typically accommodate toddlers that are over 36 inches tall.
Here's something you might not have known as a novice parent – most baby cribs nowadays are convertible! That means you don't have to throw them away when your baby or your toddler outgrows them.
Rather than doing that, you can convert them to toddler beds or daybeds by following a couple of steps. Before you start pushing and shoving, check the manual to make sure your crib can be converted.
After that, try lowering the mattress as low as you can and removing the front rail to make more space. Also, check whether your crib came with a toddler rail which serves the purpose of preventing your toddler from rolling over and falling.
Oh and, don't forget to check whether your toddler passes the weight restriction. On the off chance that your toddler doesn't pass the weight restrictions, you can add stabilizer bars to the toddler bed before you decide to get a new one.
Crib materials: How does the material affect the weight restrictions of a crib?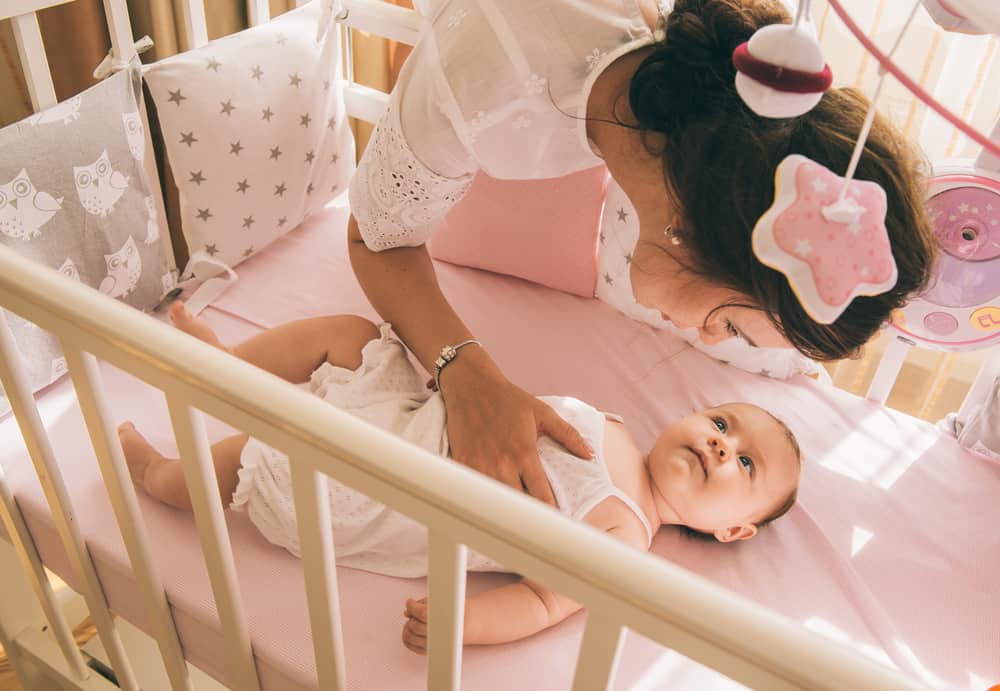 When we discussed the answer to your "How much weight can a crib hold?" question, we mentioned that most cribs can support up to 50 pounds.
While that's true for the most part, there are situations when a crib can't support that much or can support even more, depending on the material from which it was made.
Right off the bat, most cribs are made from wood (with the addition of different metals) because that's one of the strongest materials that can support a bunch of weight.
Different types of wood can carry different amounts of weight, and most cribs are made with ash, American beech, birch, maple, oak, cherry, and mahogany.
Now, all these types of wood can carry much more than 50 pounds. However, the weight restrictions that argue against putting anything that's more than 50 pounds on top of the crib ensure your baby's safety while she's sleeping, rolling around, or even hopping on top of the crib.
To make matters worse, most cribs are covered with plywood without wooden slats. Plywood doesn't have the same capacity as regular wood which means that the plywood might crack under pressure, granted that the parent decides to use anything heavier than 50 pounds on top of the crib.
Oh and, wooden cribs can also suffer cracks and damages that are not visible to parents before an accident occurs. Preventing such damage can be as easy as not violating the weight and height restrictions that are keeping your baby or your toddler safe.
Crib safety guidelines: What are they and why do they matter?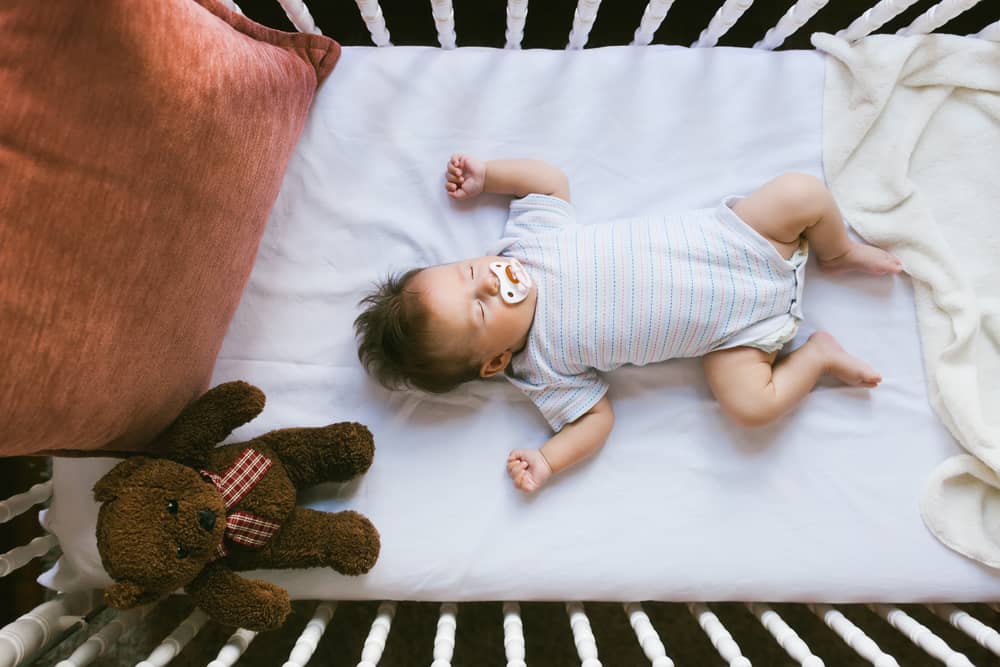 While crib safety guidelines might differ from country to country, there's a consensus on what's considered safe or unsafe for your baby or toddler.
We're going to discuss the guidelines made by the US Consumer Product Safety Commission (CPSC), but you can check whether they differ from your country's guidelines, too.
Now, the biggest restrictions are regarding the weight and height limits we already discussed. Other than those, there are a few other things to keep an eye on before you leave your baby or your toddler unattended (in the crib, of course).
For starters, you need to check the distance between the corner posts and the slats. According to the CPSC, the distance between them shouldn't be bigger than 2 to 2,5 inches, or else your baby's hand or leg may get stuck between them.
Additionally, you need to check whether the mattress fits the crib without gaps. And, you need to check whether the crib feels wobbly when you're done assembling the parts. Shake the crib a bit, check to parts to make sure they don't need tightening and go through the instructions once more.
Lastly, check whether there are parts that are missing and contact the manufacturer for replacements before assembling anything. Better safe than sorry, right?
Crib alternatives: What to do when your baby outgrows or refuses the crib?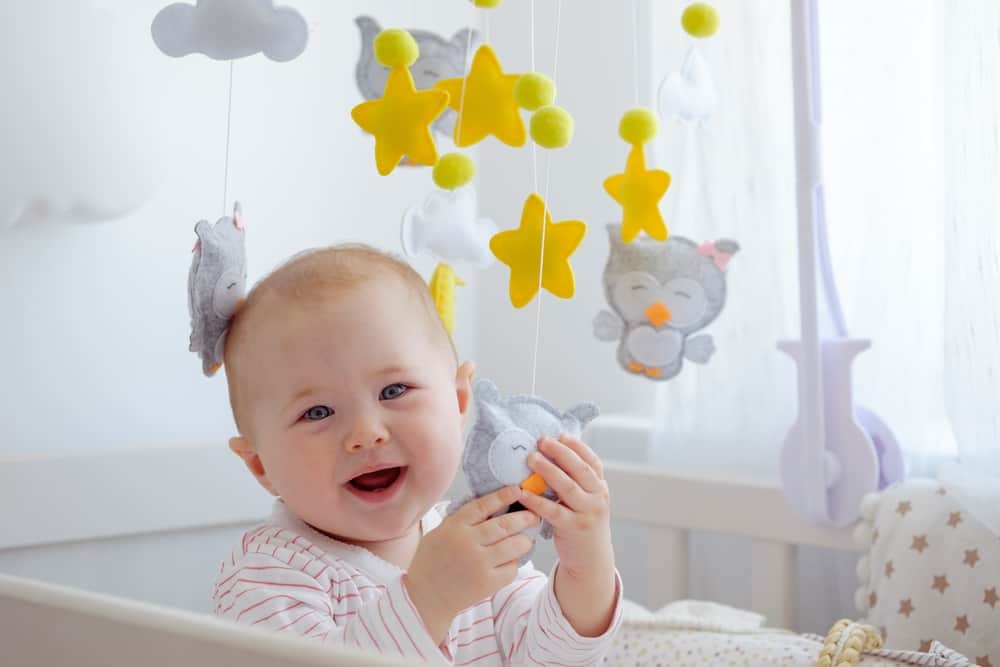 With everything we discussed throughout the article, there's a chance you figured out that the "How much weight can a crib hold?" question might not be your biggest concern.
While most cribs can hold up to 50 pounds (more than enough for a baby or a toddler), you might be searching for alternatives to make the sleeping arrangements a little easier and a little safer for the time being.
Whether you're not the biggest fan of cribs or you're searching for affordable alternatives to cribs, we've got your back. First off, one of the alternatives that doesn't require weight or height restrictions or safety guidelines happens to be a floor bed.
Now, floor beds are great because they only require a floor and a mattress (and a mommy or a daddy to ensure that the baby's safe).
On the other hand, you might be more comfortable with bassinets or co-sleepers because you're breastfeeding or because you prefer having your baby close without having her sleep with you.
Playards or playpens are portable, which means you can take them from one room to the other without batting an eye. And, we can't forget about bed-sharing, which seems to be a great chance for parents to bond with their babies by sleeping next to each other.
Good luck, either way!
Read this: Snoo vs. MamaRoo: The Pricey Battle For Peaceful Dreams