Smart bassinets are a game-changer for every new parent, and they're truly a blessing of modern times. However, there's a battle between the two most popular models in the smart bassinet game – Snoo vs. mamaRoo. Which one do you pick?
One thing is for sure – no matter which one you choose, you won't be making a mistake. Both the SNOO and the mamaRoo bassinets are loaded with some amazing features. The first one who started this whole fad was the SNOO Smart Sleeper Bassinet, whose model changed the game forever.
Since then, plenty of companies tried to replicate or add their own twist to this idea, but the only one that came close to it was 4moms with their mamaRoo sleep bassinet. And just like that, the SNOO vs. mamaRoo battle began.
Although both of them were made to soothe your baby and put her to sleep, there are some major differences that set them apart. Of course, your little one will probably love her bassinet no matter which one you choose, but we know how picky parents can get when it comes to their babies.
After all, you want what's best for your little one, and I fully support that. Both of these come with great features that will make your life easier. Still, there are some differences that might make you fall in love with one more than the other.
While some parents couldn't imagine their life without a smart bassinet, others are skeptical about its use. Together, we'll go over some of the main features of both the SNOO and mamaRoo bassinets, so you can see which one, if any, might suit your little one the best.
What's a SNOO Smart Sleeper and how does it work?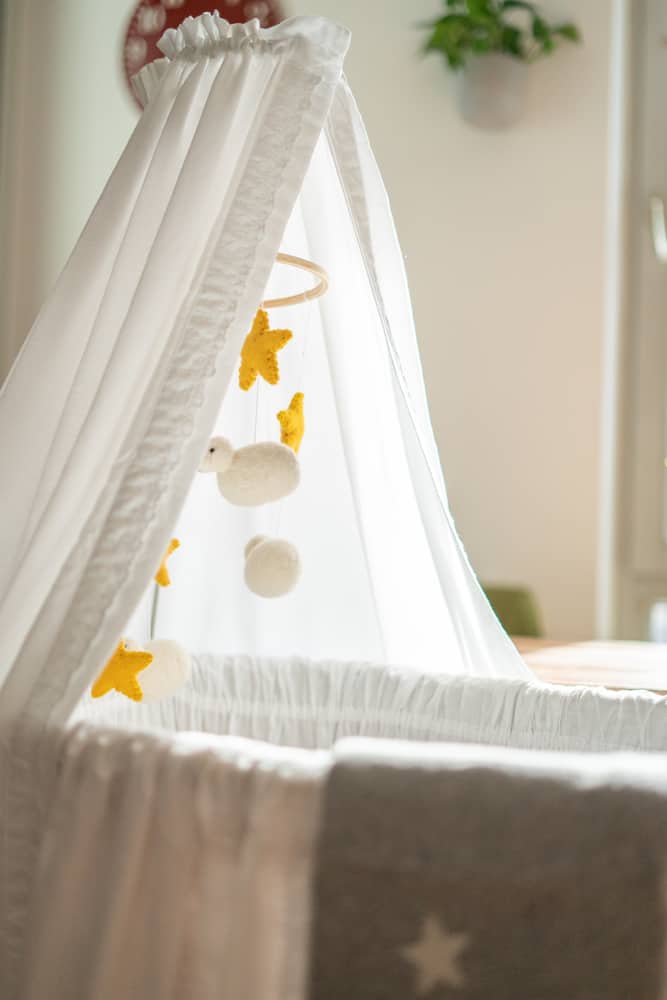 Whether you're a new parent or about to become one, it's a good thing you're thinking of getting a SNOO Smart Sleeper bassinet. It proved to be efficient at calming a crying baby and lulling her to sleep, and parents all over the world love it.
The SOO smart bassinet is one of the most advanced cribs that you can find today. It's known for its amazing cry-detection feature, which responds to the baby's cries through various motions and swaying, which calms her down.
It imitates the motion your baby experienced in the womb or her mum rocking her to sleep. On top of that, it's designed with a variety of sounds and white noises that soothe your little one.
Some of the many pros of the SNOO smart bassinet include:
It extends the baby's sleep
It detects the baby's cries and starts swaying accordingly
It has a swaddling system to keep the baby safe from rolling around
It comes with an app that helps you control the motion and track your baby's sleeping pattern
It comes with a feature that helps your baby transition to sleeping in a crib.
Some of the cons of the SNOO smart bassinet:
The new ones are pretty expensive, although you can rent one for a lower price
Because of its weight, it's hard to move around.
What's a mamaRoo Sleep Bassinet and how does it work?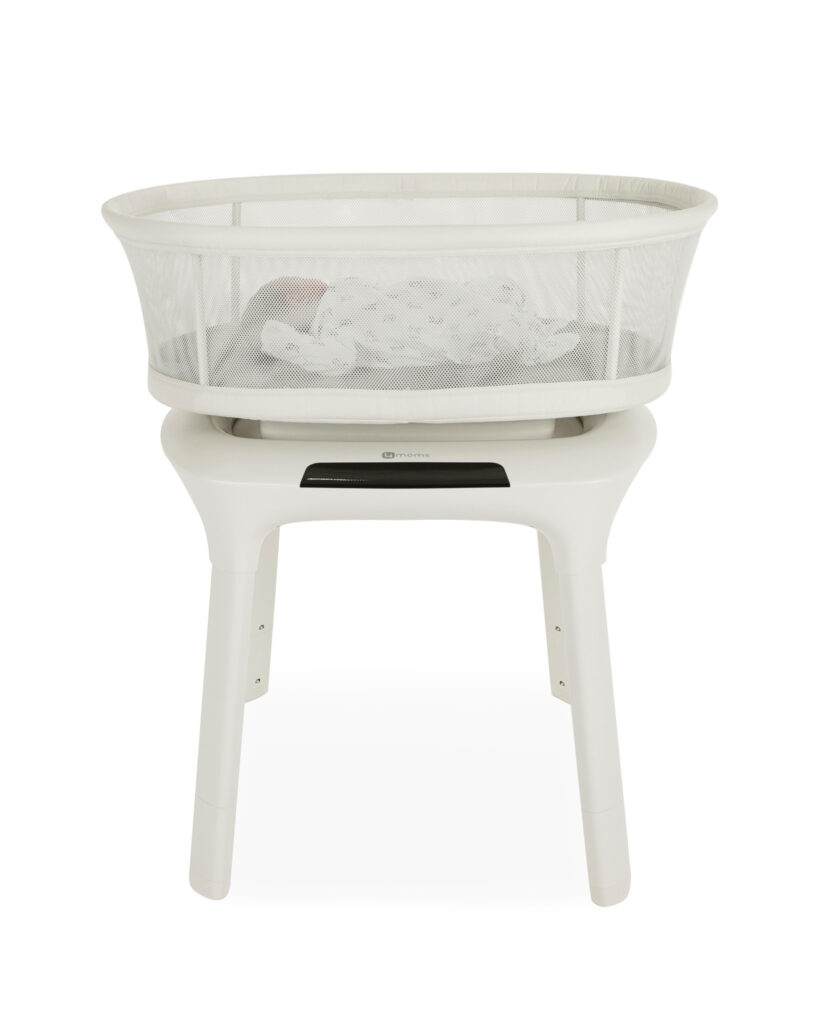 (Credit: Zuka Baby)
Another popular choice among new parents is the 4moms mamaRoo Sleep Bassinet, which is significantly cheaper, yet it's in no way a bad choice for your baby.
It comes as no surprise that parents are having a SNOO vs. mamaRoo debate, as this one also has some great features. Just like the SNOO one, mamaRoo smart bassinet also features a range of motions, as well as white noise which soothes the baby.
The great thing about the mamaRoo bassinet is that it has a range of motions that imitate different scenarios. Whether your baby likes to sleep during a car ride, or you might find that she likes being rocked to sleep, your mamaRoo can do it all for you.
Using an app or manually, you're able to choose the motion you want and even set a motion timer that will help you create a bedtime routine for your little one.
Some of the pros of the mamaRoo Sleep Bassinet include:
It's affordable
It has a white noise feature
It comes with five different movement options
It comes with an app that includes a timer
It's a great option for those who like to give their babies a bit more space to move.
Some of the cons of the mamaRoo Sleep Bassinet:
It has no feature that helps your baby transition to sleeping in the crib
It has no cry-detection feature.
Their looks
One of the first things you'll notice when doing the SNOO vs. mamaRoo comparison is the way they look. Let's see what are some differences in their design.
1. How does the SNOO look?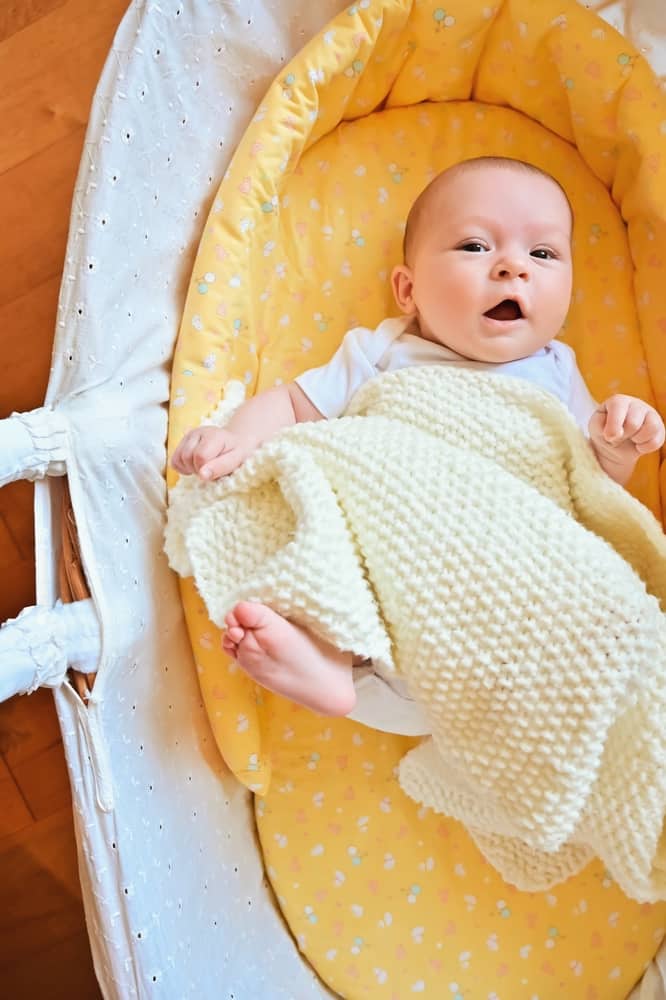 If you'd like to keep your nursery room on the fancier side, you might be more interested in getting the SNOO smart sleeping bassinet. Its designers did a great job at incorporating old and new, with wooden parts and metal legs that hold it all together.
Just like the majority of bassinets, the SNOO one has sides made of mesh, which allows good airflow without impacting the safety of your baby. The design is pretty open, so you'll be able to keep an eye on your little one without any issues.
Weighing 38 lbs, the bassinet is pretty heavy, so you might have a slight issue moving it around. Its dimensions are 36 x 16 x 32 inches, and it's designed for babies that weigh up to 25 lbs.
2. How does the mamaRoo look?
The mamaRoo is the cheaper alternative, and its looks might give that away. It's completely white with plastic legs, but we're sure your baby won't mind. On top of that, its legs are a lot thicker, which makes this bassinet super sturdy.
Its mesh is slightly lighter than that on the SNOO bassinet, which provides even better visibility. Even though it's not as thick, the mesh is still of great quality, so you probably won't notice any differences here.
The mamaRoo bassinet weighs around 30 lbs and is generally a bit smaller, which makes it a lot lighter than its counterpart. It's also designed for babies weighing up to 25 lbs, but this one doesn't come with a baby harness. If you like to give your baby some freedom to move, this shouldn't be an issue for you.
Their movement and vibration
Although both bassinets come with great movement and vibration features, there are slight differences here. Let's see what they are.
1. The movement of the SNOO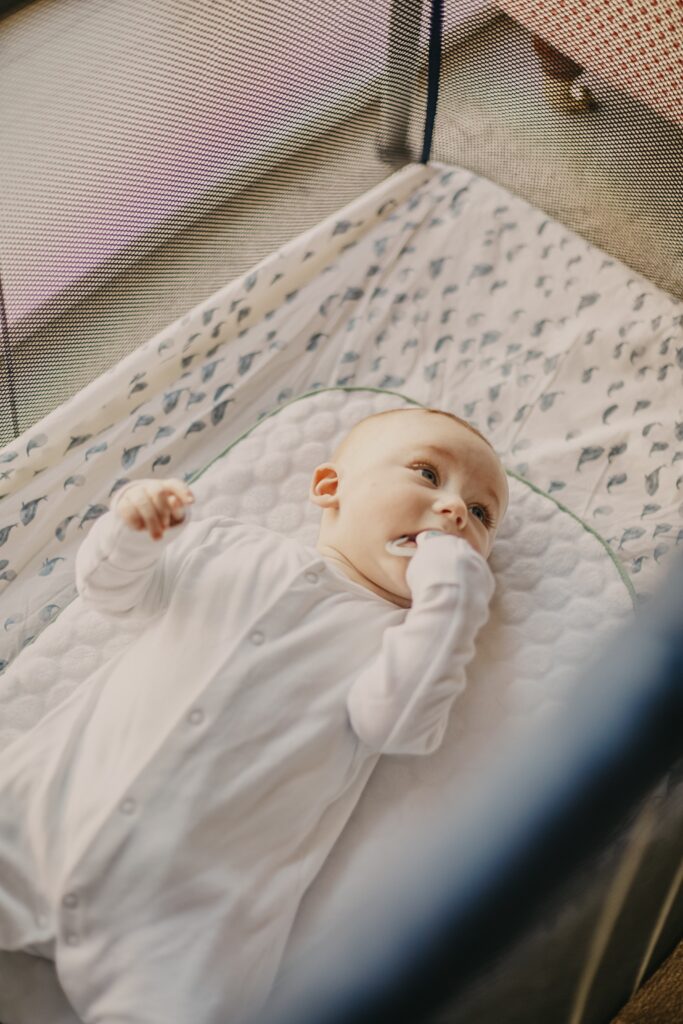 The popular SNOO comes with a feature that offers a variety of movement levels that you can adjust to your baby's liking. Its amazing cry-detection feature recognizes the cries and starts automatically going through every movement, slowly soothing your baby and rocking her to sleep.
If your baby doesn't like to be rocked, don't worry. You can always set the motion how you like it, and your SNOO will stop when it reaches the limit you've specified. Don't worry, your baby won't be rolling in the crib thanks to the swaddling straps that will keep her in place.
2. The movement of the mamaRoo
In the SNOO vs. mamaRoo bassinet debate, the latter might win when it comes to movement. In your womb, your baby got used to constant movement, which is why she loves being rocked to sleep or sleeping while you're driving.
The mamaRoo bassinet comes with five different motions, which include car ride, kangaroo, rock-a-bye, wave, and bounce. That way, you'll be able to choose the movement type your little one enjoys the most and adjust the speed to her liking.
Their sounds
What makes smart bassinets so great is the fact that most of them come with a variety of different sounds that help soothe the baby. Here is what SNOO and mamaRoo ones have to offer.
1. Sounds of the SNOO
The SNOO bassinet comes with five different white noise levels that will calm your baby and put her back to sleep. You can easily adjust the intensity and level using an app. You'll quickly learn what kind of sounds your baby prefers, so you'll be able to adjust them to her liking.
2. Sounds of the mamaRoo
MamaRoo, on the other hand, comes with four different types of white noise, which include rain, fan, ocean, and shh. The bassinet changes the sounds on its own, without any major increases that could disturb your little one.
SNOO vs. mamaRoo – the biggest difference is their price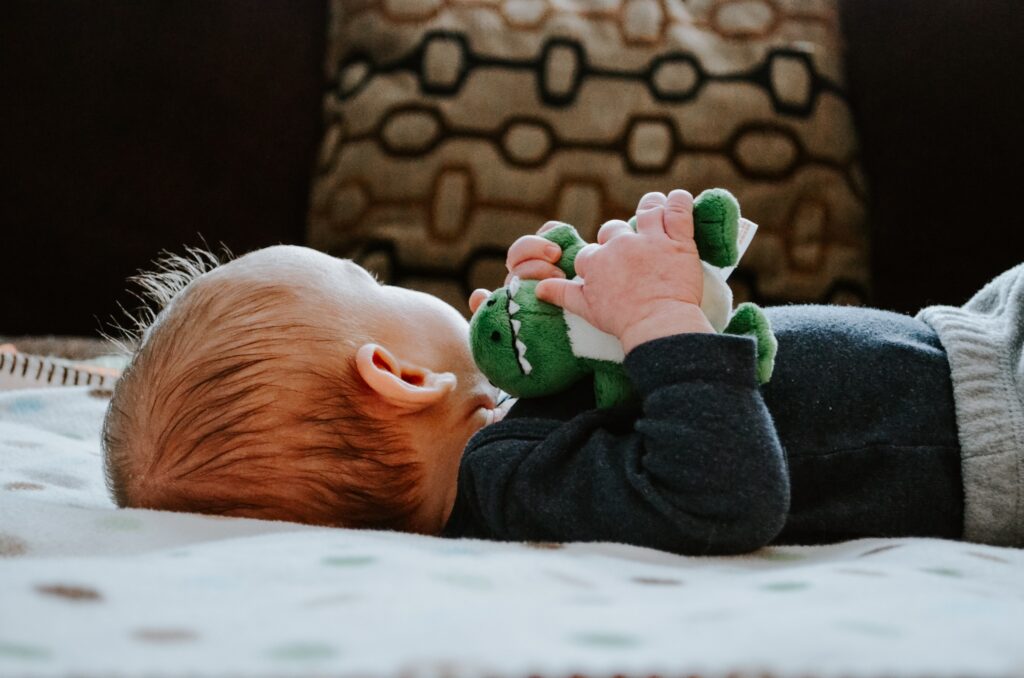 Considering how similar these bassinets are when it comes to their features, the price might be your deal-breaker, because let us tell you – the difference is huge.
Although both of them are pricey, the mamaRoo one is almost $1000 cheaper than the SNOO! Because you won't be using your smart bassinet for longer than a couple of months, you might want to consider renting one until your baby is big enough to sleep in a crib.
Read this: Bassinet Vs. Cradle: The Battle Of Baby's Dreams